Ring Leader
Senior Muratoglu wins debut MMA fight
December 11, 2018
Senior Rana Muratoglu took home her first official MMA win Nov. 24, crushing her opponent, who was 11 years older. However, this victory wasn't luck, it was the result of eight years of hard training.
"I don't think I've ever felt more relieved to hear my name pronounced wrong," Muratoglu said after the fight. "All of the energy and dedication I put into fighting, and the trust I put into the past eight years, was the reason I won. I felt powerful, fulfilled and grateful for the family that I've become a part of."
Until she found fighting, Muratoglu dreaded sports.
"Going to sports practice was a chore for me," Muratoglu said. However, when she was 10, her older sister introduced her to a kickboxing class.
Muratoglu fell in love immediately.
It wasn't an easy transition, though. She was participating with men much older than her.
"When I was younger, I was the only girl on my team. I was surrounded by 30-year-old men, and I would practice with them. But even then I wasn't scared because they respected me and they toned down how hard they should go on me. They treated me right. So I wasn't scared," Muratoglu said.
"
I think about it as if it's human chess. It's a strategy game. "
— Rana Muratoglu
"I know that the second I start to back away from my opponent, start to have second thoughts about throwing a combo, or constantly covering my face with my arms to prevent getting hit, I know that I am going to lose," said Muratoglu.
As her career in fighting progressed, Muratoglu tried out all different types of fighting, including kickboxing and wrestling, before focusing on Muay Thai.
"Muay Thai is basically Thai kickboxing," Muratoglu said about her sport. "It's boxing in a way because you have boxing gloves and a mouth guard; however, it's unique because you can throw elbows and knees like in kickboxing.
Although she considers it a sport, she explains that in Thailand where it originated, it is considered more of an art form.
"I think about it as if it's human chess. It's a strategy game. You're constantly trying to figure out what you should do now; this person is throwing this so what do I need to do? You're constantly reacting and it's all mental. That's what it is and that's what is fun for me. It's literally solving a puzzle," she said.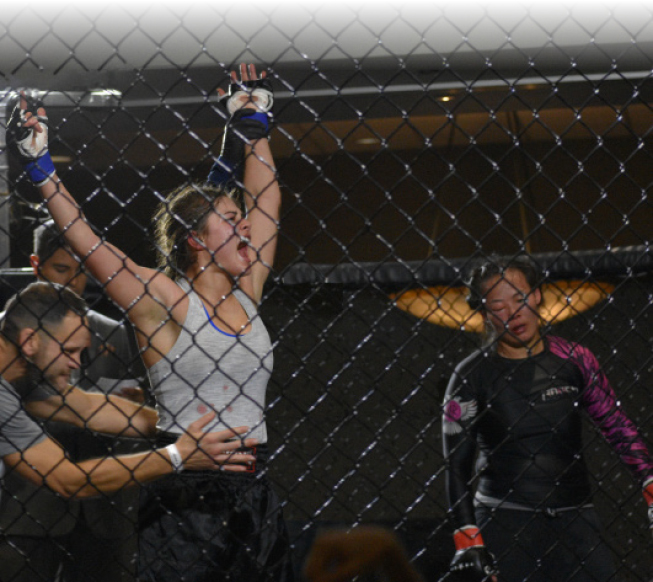 Despite the required mental strategy, there is no denying the amount of physical demand it takes to be a successful fighter.
Not only does she practice with a personal trainer three to four days each week where she does running, lifting or kickboxing, but she does extra conditioning on her own to keep up her fitness and strength.
"The base line is three-mile fasted runs in the morning everyday. So you wake up, drink water, and start running; you don't eat anything," Muratoglu said.
In the summer, her training becomes even more extensive and intensive due to her disposable time.
Not only has Muratoglu devoted her free time to fitness, but her whole lifestyle changed when she became cognizant of what she was eating.
"Over the summer, I stopped eating meat. I have never had dairy because it isn't good for me. I basically call myself a vegan who still eats eggs. It completely changed everything," Muratoglu said.
Senior Nikole Tzioufas said despite this recent change to a stricter diet, Muratoglu has always been conscientious of what she has eaten.
"She is truly an inspiration to anyone at LFHS and is someone who has really defied all odds. She has proven over the years you can accomplish anything you set your mind to," she said.
Muratoglu has even started her own instagram account (@muratoglufitness) to journal her fitness and nutrition on a daily basis.