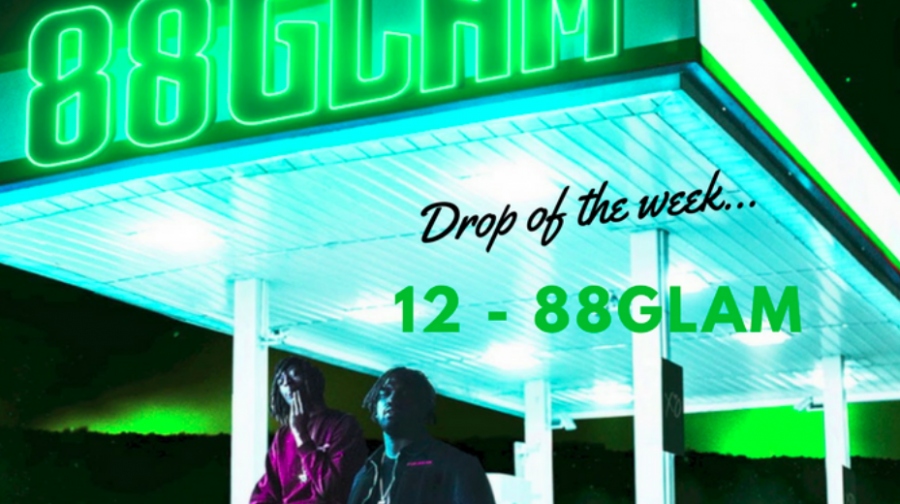 Warning: This song contains explicit language and content that may not be suitable for students of high school age. The song was chosen for its expressionism and implementation of new, experimental styles, not necessarily the message expressed by the artist.
88GLAM has finally released their first, self-titled project to their fans. Just after dropping the first single and video from the project last week, 88GLAM is the next up-and-coming artist in the spotlight right now. Being the first produced work by these two artists, there was plenty of debate as to whether or not the new project would be a cop or drop for the music industry.
Although 88GLAM, made up of Derek Wise and 88 Camino, have been making music together for some time, this album is the first that the duo has released. The ten track LP is sign that the two have translated their undeniable chemistry as artists into one solid unit, which is well worth the wait. The new project features production from a real wonder crew of Canadian producers, including Murda Beatz and Wondagurl. As well as those two producers, the new work also recruited the help of fellow XO cohort, Nav, as the project's sole feature, being featured on the popular song "Bali." Other popular songs that fans of 88GLAM's "12" should check out is "Cake," which gives off a very cool trap beat but also adds in an aspect of mystery to keep listeners intrigued.
Like every good album, and every Drop of the Week, there is one song that stood out for me. Many people didn't know of 88GLAM and to be fair, I didn't either, until I heard "12" on the top picks on iTunes.
The song starts off with a simple tune of chords and then drops into the trap beat that makes up the underlying bassline for the track. This beat creates quiet vibe for the artists to lay their tracks on, which leads into the first verse. The lyrics explain the aspects of the rap life–from buying expensive clothes to drive fast cars–but the chorus brings it all together for the drop. When I first listened to the chorus, without knowing who the track was by, I thought it was a new song by the Canadian artist, The Weeknd.
To my own surprise when checking the track it was the chorus of 88GLAM and, with that, you can believe that the vibe for the chorus is very chill and vocalized. You can hear the vocals more so than the beat during the chorus, as well as the Weeknd-like vibe, to give the whole starting track a next level hype for the new artists.