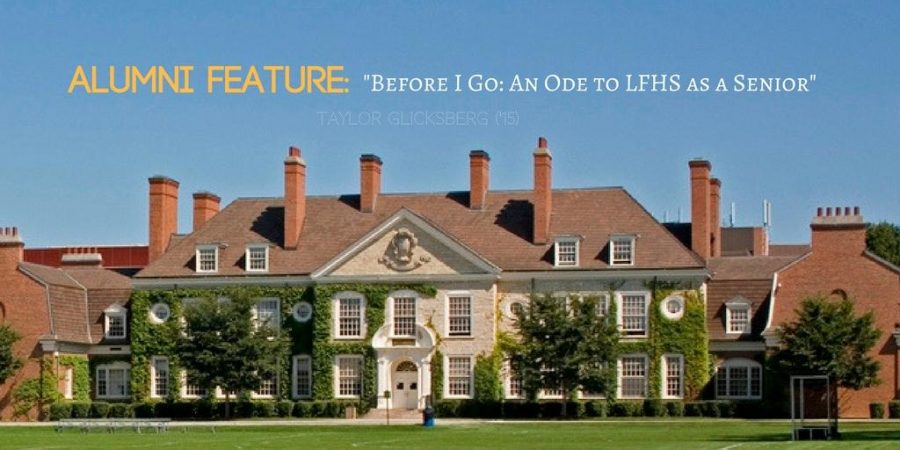 The following piece was originally published in the 2015 compilation "A Forest for the Trees" written by Mr. Scott's Contemporary Chicago Writers course. 
As senior year comes to end, that fateful summer day on the front lawn quickly approaching, and college move-in day in some isolated college town just around the corner, I find myself beginning to reminisce on the elegant town I've been blessed enough to grow up in. Beginning to reminisce on the people, places, and experiences that have helped create the person I am today; beginning to reminisce on the memories as they slowly trickle through into my conscience–the things we did, the things we said, and who we were, constantly changing as we grew up.
Having spent my entire life adventuring, learning, and raising relative havoc in Lake Forest, I thought I'd take this time to thank, and of course apologize, to some important people in the community.
I'd like to apologize to all the small business in uptown Lake Forest—the quaint, picturesque shops who pride themselves on their cutesy and vintage decor, as well as all the citizens in pursuit of spending a nice Friday afternoon in town. Sorry for everything that happened from 4pm-8pm every Friday after school, when we were abuzz with the eagerness of a weekend free from school. To Starbucks, I'm sorry for the hundreds of frappacinos you made and the noisy little girls you dealt with, constantly testing the patience of your wait staff and customers. Sorry for all the silly string and poppers that littered Market Square's beautiful red bricks and grass lawn. Sorry for stealing all your food samples, using all your bathrooms, and allowing your store to be a shelter from the weather as we arranged rides from all our moms. Sorry for swimming in the fountain, and trying to climb the flagpole, for no apparent reason other than our own curiosity
I'd like to thank all the businesses in the Lake Forest and surrounding community. Thank you to Knollwood McDonalds for staying open until midnight to feed our befuddled friends, and not calling the police on us when perhaps you should have. Thank you again Starbucks for letting me spend hours on top of hours studying in that corner, a place where I covered almost every subject, from Chemistry to Algebra, English to Afro. Thank you Foodstuffs for serving all the picky salad customers with our pointing fingers and our continual "a little bit more" or "a little bit less" of that's.
I'd like to apologize to the Metra Train conductors. Sorry to you and passengers on the 10:24 train in East Lake Forest on that ceremonious first Friday of August. Sorry for all the barely clothed teenagers dangling over the top railings and hogging up the bathrooms. Sorry for all of the glossy eyed kids keeled over on their way home from the St. Patrick's Day parade.
I'd like to thank the Lake Forest Police Department. Thank you for not pulling over that white Jeep Wrangler cruising 85 miles-per-hour on Waukegan. Thank you for sending three squad cars, an ambulance, and a fire engine the one time my dog chewed our home phone and dialed 9999. Thank you for giving us underage teenagers a little extra unexpected cardio on some Saturday nights.
I'd like to apologize to the Deer Path Middle School Staff and Faculty. Sorry that you had to deal with the peak of most everyone's awkward stages, and on top of it, the Class of 2011 didn't make things much easier. Sorry for that one girls basketball game that ended in a riot–with at least two parents screaming at the student section. Sorry for trashing the girl's locker room shower stalls with ketchup and feminine products. Sorry for making those "Free IV" T-shirts when IV tried to get that teacher fired.
I'd like to thank the Lake Forest High School Staff and Faculty. I'd like to thank you in advance for dealing with all that Class of 2015 will bring in these upcoming months; all of the late and halfheartedly done assignments; I'd like to thank you for sometimes ignoring the vulgarities that you hear in the hall way. Thank you for all the pink slips you've signed, the fake parent notes you've accepted, and the blue passes I've forced upon you. Thank you for letting me park in visitor, swim lane, and the teacher lot when I'm running late to school. Thank you for allowing me to complete Junior year even with those 196 absences and 18 tardies.
We're the last generation to live a relatively normal childhood, our minds not captivated by our reliance on technology. We've experienced memories that future generations will never dare to enjoy. We allowed our creativity to run wild, as we ran around our town that we were proud to call home. So, thank you for the past 18 years of my life, Lake Forest. I apologize that I never took the time to really enjoy it.