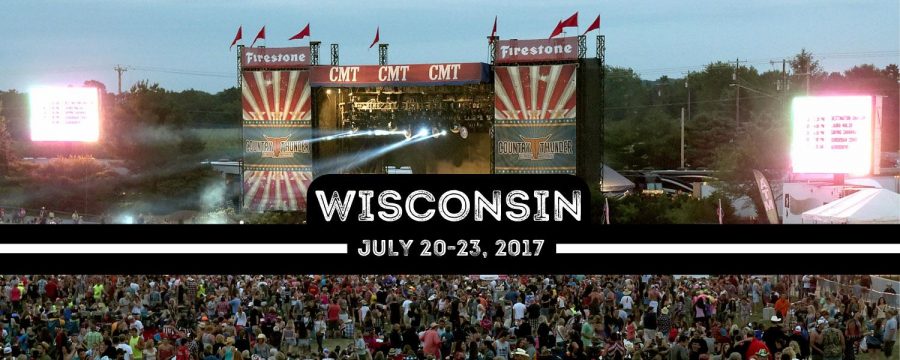 Some may argue that Country Thunder doesn't hold a candle to Lollapalooza, but others, like me, would contend that the music festival in Twin Lakes, Wisconsin, is the highlight of summer. Set on a much smaller scale with a largely different crowd, Country Thunder's environment is more laid back and casual than Chicago's Lollapalooza. This year, the lineup is stacked with some of country music's biggest names.
Billy Currington, the singer of "People Are Crazy", "It Don't Hurt Like It Used To", and "We Are Tonight" may not come to mind when you think of your favorite country artists, but Billy Currington has more popular songs than one might think. Currington will be taking the main stage on Thursday night right after Dallas Smith. Friday night, Dan + Shay, singers of "Nothin Like You" and "From the Ground Up", are scheduled to perform at 8 PM, followed by Keith Urban. Urban was nominated for 3 Grammys this year and won 2– Best Country Solo Performance with "Blue Ain't Your Color", and Best Country Album for Ripcord.
In my opinion, Saturday is the best day lineup-wise. Old Dominion will perform at 8 PM and will most definitely put on a show with their countless hits. Then, perhaps country's current biggest name, Thomas Rhett, will perform. Rhett came last year but didn't headline, which was a bit of a bummer. Still, this year he's back with his 10 PM performance time. If you say you don't like country but still want to go to CT for the fun, I recommend going Saturday and seeing Thomas Rhett perform. His music is in the country genre, yes, but has many elements of pop that even country-music haters have told me they liked. This performance will most definitely be my favorite of the weekend. Finally, Jason Aldean, the 2017 American Country Music Award Performer of the Year recipient will be on CT's main stage Sunday Night to finish up the four day extravaganza. Aldean headlined back in 2014 and is back by popular demand. His best known songs date back to 2010 with "Dirt Road Anthem" and his success has continued throughout the years.