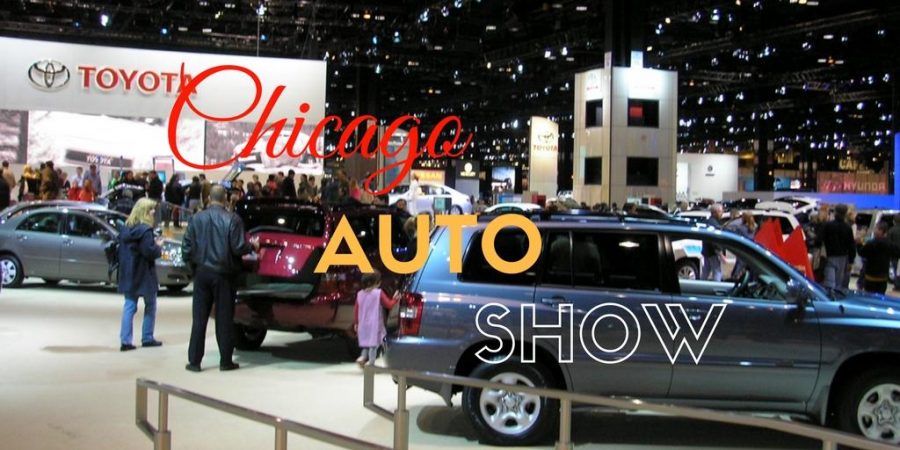 Take a step onto the show floor, the music is blasting, the cars are shining and the buzz of excited car enthusiasts is in the air. The smell of fresh tires and clean interiors lingered in the air as I walked into the McCormick center, excited to see the new cars and technology, I eagerly walked up the marble stairs.
The event first started in 1901, and up to present day it has been the most sought after auto event in North America. It continues to be one of the most anticipated and hyped auto events that attends Chicago, and with over 1 million attendees, it continues to keep its reputation as a great show for car fans and families. The Chicago Auto Trade Association (CATA), which has been in charge of organizing the event since 1935, continued to keep the fun and excitement alive at this year's Auto Show. In 2008, it marked the 100th anniversary of the event and, to this day, it has been recognized as the longest running Auto Show in the world.
Due to the sheer size of the event, several Auto Manufacturers such as Toyota, FCA US, Jeep, Dodge and Mercedes have included indoor test tracks to show off their cars and let the customer have an experience of what it's like to drive their car. With the press day being on February 9th, the amazing experience was open to the public from February 11-20. 
This year the auto show came out as strong as ever. Some of the most highlighted previews were Alfa Romeo, Subaru, Volkswagen, and Mercedes. While there were big names that had a great show floor, there were some let downs. For example, Porsche, while widely known for their class yet sporty feel,  their 2017 Auto Show performance seemed to only focus on the Cayenne, Macan, and Panamera. Another major brand that's show floor seemed to be sub-par was BMW. Although they weren't introducing any new concepts, they seemed to only want to promote the i8, i3, and 5 series. 
Production Car Intro:
2017/2018 Chevrolet Redline Series special editions (Cruze, Malibu, Camaro, Trax, Equinox, Traverse, Colorado, Silverado)2017 Chrysler Pacifica BraunAbility wheelchair accessible van2018 Dodge Durango SRT2017 Mopar Dodge Challenger2018 Ford Expedition2018 Hyundai Elantra GT (North American debut)2017 Infiniti Q50 3.0t, QX80 Signature Edition2017 Jeep Wrangler Rubicon Recon 2017 Mitsubishi Outlander Sport Limited Edition2017 Nissan Altima, Murano, Pathfinder, Rogue, Sentra Midnight Edition2017 Nissan Titan King Cab2017 Ram 1500 Cooper Sport2017 Ram 2500/3500 HD Night package2018 Subaru Legacy (re-invented)2018 Toyota RAV4 Adventure2018 Toyota Sequoia, Tundra TRD SportTop Super Car Gallery:
Lamborghini Huracan Coupe
MSRP: $248,295
5.2-liter V10
580 HP
Top Speed: 199 mph
0-66 mph: 3.6 s
5/5 STARS
Aston Martin V12 Vantage S 7-speed
MSRP: $228,069
6.0-liter V12
568 HP
Top Speed: 205 mph
0-60 mph: 3.7 s
4.5/5 STARS
Lotus Exige V6 Cup 360
MSRP: $108,000
3.5-liter V6 supercharged
355 HP
Curb Weight: 2447 lbs
0-60 mph: 3.6 s
3/5 STARS
Lamborghini Aventador Roadster
MSRP: $479,875
6.5-liter V12
700 HP
Top Speed: 217 mph
0-60 mph: 3.0 s
5/5 STARS
Aston Martin DB11
MSRP: $259,144
5.21-liter Twin Turbo V12
600 HP
Top Speed: 200mph
0-60 mph: 3.9 s
4/5 STARS
Bentley Bentayga
MSRP: $229,100
6.0-liter Twin Turbo W-12
600 HP
Top Speed: 187 mph
0-60 mph: 4.0 s
5/5 STARS