The Forest Scout Friday Five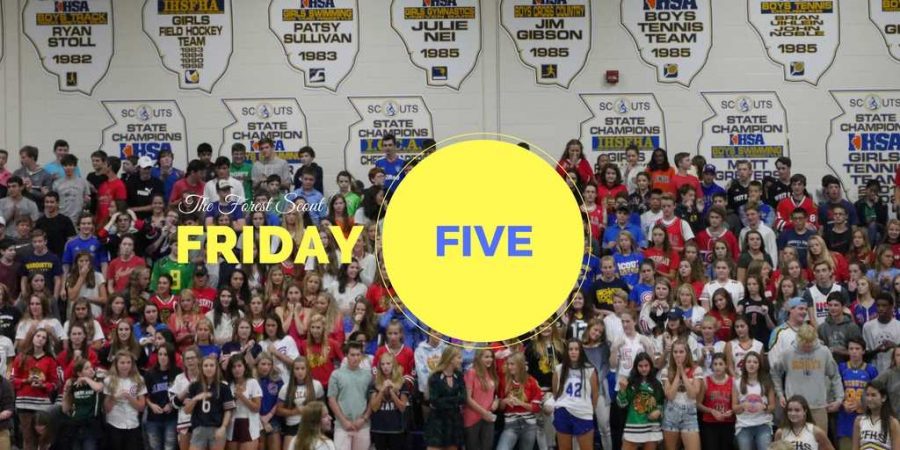 The Forest Scout Friday Five is a weekly segment that celebrates five people making a distinct, profound, and positive difference in the Lake Forest High School community. To visit our most recent installment, click here. Congratulations to our first 50 inductees into The Forest Scout Friday Five. To recommend a student, teacher, support staff, or community member for inclusion in The Forest Scout Friday Five, please email [email protected]
Mrs. Cindy Rogna: For every high school, there are a few sets of caring, maternal, watchful eyes that keep close observation of what's happening inside the school to make sure, as the adage suggests, "that the kids are alright." At Lake Forest High School, one learns rather quickly that Administrative Assistant and Student Services Secretary Mrs. Cindy Rogna is much more than your behind-the-desk, push-the-paper sort of secretary. She is the metaphorical mother of LFHS as a community member, parent, faculty member, and constant cheerleader for LFHS' students. Perhaps there is no one more suitable to answer phone calls directed to the Student Services office, as Mrs. Rogna's voice exudes a thoughtful, how-can-I-help-you sort of friendliness, but that is far from the full extent that her job at LFHS entails. 
In the past, Mrs. Rogna has manned the library with the patience and peaceful poise that has become her trademark. Students from years ago often remember Mrs. Rogna in the library more so than any book by Dickens, Yeats, or Shakespeare. In today's LFHS landscape, Mrs. Rogna nurtures the freshman Student Council as the Class of 2020 class sponsor. Who better to deal with LFHS' youngest kin than the matriarch of the school herself? Mrs. Rogna has been known to dish out the "huns" and "dears" with the best of them, but she has also broken new ground with Freshman StuCo in terms preparing them to deal with situations as mature and polished adults. As facilitator of the downtown window painting practices during the school's Homecoming week in the fall and 8th grade orientation for incoming freshman in the spring, Mrs. Rogna is spreading LFHS Scouts spirit the only way she knows how, with a kindness that beams all around her. Jill Barrere, a freshman at the University of Illinois, had this to share about Rogna's influence on LFHS. "She is always willing to drop everything for you. Mrs. Rogna is such a genuine soul and I am really thankful to have been so close with her. She's the absolute best."
Today, you may be lucky enough to run into two Rogna's in the same day at Lake Forest as Mrs. Rogna's daughter, Angela McNicholas, is coaching in the Lake Forest athletic department for the Varsity Dance team in the fall season while assisting during the winter season. It only makes sense that a woman with such a profound pride and passion for LFHS would encourage her own daughter to join the fabric of one of her mother's favorite places. 
TJ Dasso: Often times as high schoolers, we misconstrue the word well-rounded to mean that a young man plays both football and basketball. However, all it takes is one glance at senior TJ Dasso's course schedule to find out that he is the epitome of a well-rounded student. Having played baseball, volleyball, and golf early on his high school career, TJ still finds the time in his course schedule for both Wall Climbing and Team Fitness. Still, that doesn't mean that he's shortchanging his core classes. Dasso still takes part in AP Phsyics and AP Macroeconomics, two classes heralded as some of LFHS' most demanding. Meanwhile, as if that weren't enough, TJ also takes part in two Mathematics courses, AP Computer Science and H-Advanced Topics in Math. 
Aside from his 8:15-3:20 school day, TJ is a participant in Habitat for Humanity where he builds houses across the country for the less fortunate, and still finds time to earn a little cash as a caddie at Old Elm Golf Club. No wonder that schools like Cornell, Dartmouth, Duke, Princeton, Penn, and Notre Dame are on TJ's radar for 2018; the Illinois State Scholar student and National Honor Society student seems to have proved that balance is his middle name. 
Still, his classmates, like his Junior Prom date and close friend Sarah Steindl don't mention his academic accolades when prompted to discuss TJ's daily demeanor. "He has a positive regard for everybody," Steindl, a fellow senior, shared. "His kindness is natural. Considering all he's accomplished and all he's doing, he could make it seem like he has to get to something else, but he always makes you feel important." Perhaps Dasso's steadfast dedication to programs like Kairos and COR, which have TJ's roots planted deeply in his faith, are the reason for his endless optimism. 
"TJ's a good man," shared his close friend Connor Hanekamp. "He can give you insight on the Super Bowl and then turn around and ace a physics test or solve a computer science problem." Again, TJ Dasso is only one man, but he's certainly a special one. 
Mary and Cassy King: If you haven't heard of Mary and Cassy King, you have been missing out on their dry humor, 11:11 snapchats, and a daily dose of laughter. The King twins are especially talented in gymnastics, where they both were valued members of the Varsity gymnastics team, and shine brighter than the glitter on their leotards. Besides their many athletic talents, they have a relationship with each other that many only wish they could have with a friend. Lindsay Folker, a long time friend of Mary and Cassy, says it hasn't always been that way. Before the seventh grade, Folker said that they fought like siblings do, and that she would have to sit in between them in order to stop the chaos. "They did a complete 180 [at the beginning of seventh grade], I think it was because they came back from a trip and they totally bonded. They always had inside jokes and always laughed with each other." Now, they are inseparable, and act as each others "go-to" for any matter.
Being twins comes with some serious baggage, and besides looking alike, people assume that they act alike, which is not the case. Some are too lazy to even memorize the differences between the two, and have called them "Massy" or "Cary." Sam King, their older brother, has seen them grow up, and still finds it hard to determine strong characteristic differences between the two of them, "I've been able to tell them apart for years but I can't describe their visual differences because I am so used to it now. I think they both have a range of personalities and what I see is how they're feeling that day, so it can be kind of hard to pin a concrete personality [to each of them] and even harder to determine real differences between them." Sam is grateful to have his sisters around, though, saying that, "I appreciate when they listen to my dumb rambles and I listen to their stories. I'm glad I've got my sisters!"
One thing for sure, though–they both are great friends to have, and are really respected by everyone they meet. Nikole Tzioufas, a sophomore, said that, "they are always there when you need them the most and they are a great support system. They always support me whether it be showing up to the activities we participate in or just when you need someone to vent to." They even have the best humor, and a "contagious laugh," says another close friend, Bridget McGreevy. They are able to laugh at themselves and their mistakes in a healthy way that makes you respect them endlessly. If you ever get the chance to meet them, you will see why so many wish they had a twin like Mary or Cassy.
Bradley Berklich: It is no surprise if you catch junior Bradley Berklich casually humming through the halls or filling the staircases with a soft melody. If you see him throughout your day, he will always greet you with a gracious "hello" as you walk past him or come across his presence during class.
Bradley participates in Lake Forest High School's choir as a bass, where his passion for singing is apparent, and his ability to showcase his outstanding voice–making singing seem so effortless–is magnified. Even if you don't know him for his voice in Foresters or in Madrigals, an extracurricular holiday choir, you might know him for his participation in the school plays and musicals. He has participated in a variety of different plays such as, The Miss Firecracker Contest, Radium Girls, and the Senior One Acts. In addition to this, he has participated in school musicals like Hello Dolly, the upcoming spring play, Urinetown, and more.
Bradley's dedication and hard work he puts into his involvement with the school is incredible, and his presence among other students is so positive and lighthearted. His laugh is contagious, and he will not fail to put a smile on your face when you're having a bad day. One of his fellow classmates, junior Holly Malnati, shares how Bradley is just such a warm and positive person in her life, "Bradley is genuinely one of the kindest people I know. He cares so much for others and isn't afraid to stand up for his friends."
His lovable character embodies him as person in addition to his moppy, curly hair, which always makes a statement. But don't let his teddy bear persona fool you; Bradley grew up on the south side of Chicago and has faced some experiences that tested his character. But even being surrounded by a far different atmosphere than he is in now, Bradley stood out for his outstanding character, cordiality, and kindness and never resorted to some of the negativities prevalent in his school or neighborhood.
When he moved to Lake Forest in middle school, girls swooned over him for his talent, but this was probably because another boy finally joined choir. It wasn't until later they realized what a kind guy Bradley is and how he always wants the best for everyone. His absolute character makes Bradley a much desired friend and if you haven't heard his voice, you're bound to hear it soon. Just listen. 
Lizzie Allen: In a society divided by competition, where "standing out" to colleges becomes many students' driving incentive, an accomplished yet humble individual is a rarity sure to shine, and a positive and unfailingly-encouraging student a breath of fresh air. At Lake Forest High School, senior Elizabeth Allen, an always-friendly light in the halls, is just that.
Though most often found in room 085 with a violin in hand, as concertmaster of LFHS's symphony orchestra, you can find Elizabeth—better known as Lizzie—coordinating Enviro club, at the ping-pong tables on Tuesdays in the lower commons, violin-ing at Midwest Young Artists in Highwood, violin-ing (yet again) in the dimly-lit pit for the school's musicals, and if you decide to catch her this coming fall, roaming the campus of Boston University. Seen clearly in the dedication and passion that she pours into all she does, Lizzie is not one to give less than 100%.
With a resume ensured by her unmatched aptitude for leadership, Lizzie is famously recognized as a vital member to the Lake Forest community. Even more admirable than her work-ethic and strong example, however, is how she manages to regard the needs of others more highly than her own.
Being "one to always put others before herself," as described by senior Maddie Stephenson, Lizzie is "is an amazing leader that never fails to make [her] laugh." Everyone knows (and loves!) Lizzie—being the "girl that everyone wants to be friends with," in the words of junior Thomas Knipe, the excitement and positivity that Lizzie exudes is contagious. As those fortunate enough to share a classroom with her know, her enduring smile, authentic laugh, and always-hilariously witty remarks make Lizzie approachable and relatable. Being as many people's "favorite person ever" as she is, you'd be hard-pressed to find a single person with any complaints about Lizzie. She's "someone that everyone can count on to brighten up their day," shared senior Colin Knipe. A "classic selfless attitude" sets Lizzie at the forefront of her peers, modelling how to best balance a busy schedule with meaningful relationships and interactions.
There are those who work hard, help others, and are kind and accommodating because they think they have to. Fortunately, there are also people like Lizzie that do so because they want to. That do so because it's simply part of who they are. Leadership, when defined as "having a selfless heart and always being willing to reach out and lend a helping hand," is a trait that you can count on Lake Forest's Elizabeth Allen to live out daily. As put by  junior Amalia Liguori-Coneff, Lizzie is "one of the funniest people" that "never fails to put a smile on [others'] faces." Without question, Lizzie's fun personality and selfless attitude are ones to "bring so much joy and positivity into people's lives."
About the Writer
Ghost, Author
Ghost is a section of The Forest Scout that chooses to publish material anonymously in order to increase the depth of their investigative reporting. Ghost...