Students return to Illinois Theatrefest after two year hiatus
While the effects of the pandemic seem to have faded months ago, Covid has only just allowed one storied tradition of LFHS theater to reenter: the Illinois High School Theatre Festival.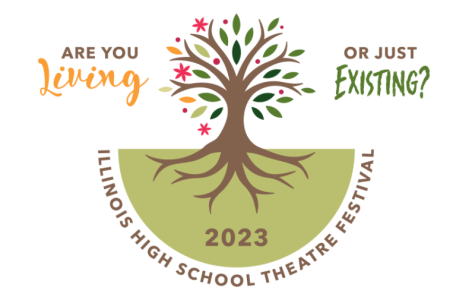 Beginning in 1976, Theatrefest was created as "a state-wide Festival event where students and teachers of theatre could share theatrical endeavors as well as learn more about the art." Since then, Illinois high school theater departments have watched and produced shows, taught and participated in workshops, and engaged in the development of the performing arts.
"It's important to have events like Theatrefest because it's an opportunity to share in the arts," said theater and business teacher Mr. Joe Pulio, who directs the fall and winter plays and is retiring this year after decades of teaching and directing. "For me, the arts are transforming. Kids' lives are changed by the arts, by theater, by music. It increases confidence, ability to communicate, so it's just cool that we have a state-driven fest that brings everything together."
The three-day festival, attended by roughly 4,000 students and a quarter of all Illinois high schools, took place at the University of Illinois Urbana-Champaign, starting with an opening ceremony and performance by singer Leah Marlene. From there, students fought for tickets to the over-30 performances and chose which of the hundreds of workshops to attend.
"There's an energy that comes from a common passion. Every single teacher and student is there for the same reason: they love theater," said English and theater teacher Mrs. Sara Dreiling.
While individual high school theater departments bring shows to the festival, the pinnacle of performing arts achievement is often found in the All-State production–a professional-level musical with a cast, crew, and pit orchestra composed entirely of Illinois high schoolers.
Participating in the All-State production begins with a highly competitive process, and for actors, it includes an eight-hour acting, singing, and dance audition (and a second day if called back).
Sophomore Nora Sharman auditioned to be in the cast of Shrek last May. Although she was not accepted, she plans on auditioning again this year and will take the lessons she learned in 2022 into her upcoming audition.
"It was very refreshing to be auditioning for something outside of the school, seeing different people behind the table," Sharman said. "It gives you a different perspective."
While very competitive, Lake Forest has seen a few students participate in All-State in recent years, including actress Cara Page ('20), trombonist S. Mack ('22), and senior drummer Ciara Carroll, who was in the Pit Orchestra last weekend.
Carroll is in all three music class ensembles and will be attending Berklee College of Music in the spring. She was admitted into the pit orchestra on drums for the second straight year after performing in the 2022 All-State Production of Cabaret with Mack, which was performed at Bolingbrook High School in lieu of the canceled Theatrefest performances. This year, Carroll has been having monthly weekend rehearsals since August, often 12 hours daily.
"I met a lot of people with very similar interests. Everyone is very similar to me. Everyone is the most involved in their music program, and it makes me feel very 'in my element,'" said Carroll. "This is probably the closest to a professional experience I've gotten. I never really thought of pit orchestra being a career option, and it's something I could potentially do in the future now."
All-State is certainly the most anticipated event at Theatrefest, and had five performances throughout the three-day festival. Still, the workshops and performances presented by individual high schools were very well attended.
Workshops at the festival ranged from ballroom dancing to Devising Theater for Social Change to a lesson on improving and organizing the tech crew's set shop.
Junior Georgia Sottosanto-Sorenson, a member of the tech crew at Lake Forest, attended this last workshop and said she hopes to use what she learned there and at performances back home.
"Once we have the time, it would be a good way to keep things more organized," Sottosanto-Sorenson said about the organizational techniques she learned. "Also, knowing that other schools could just bring in their entire set and get used to a whole new sound and lighting system in just a few days was really cool to see and experience." 
Performances ranged from the drama Radium Girls to the technical feat of The Play That Goes Wrong, but it seemed that the most desirable tickets were for that of Carrie, presented by Hinsdale South High School.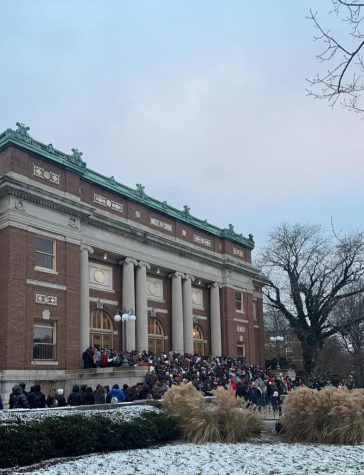 "It's not every day you get to see another high school put on a show, let alone see four in two days," said senior Jack Taylor. "I loved seeing the passion. Everyone was having a great time, and you could tell that came through in the performances."
Carrie, regarded as Broadway's biggest flop, was said to have over 1,000 students at the 7:30 Friday performance, filling the massive Foellinger Auditorium at the foot of Illinois's quad. 
On social media, the lead actress gained over 200 followers in two days and received comments like, "This show single-handedly altered the course of my life." The show even led to the creation of a meme/fan account mourning the fact that Hinsdale South's Carrie will never be performed again.
"Those students were able to reach that level of professionalism and acting quality. I believe we have the ability to do that here at this school, and it kind of rejuvenated my want to push you," said Pulio.
While students enjoyed watching performances from other high schools, the last show Lake Forest Theater has sent to Theatrefest was over two decades ago, and was directed by now-retired teacher Mrs. Karen Topham. However, without a winter play during that time, students were more easily able to bring the fall show to Theatrefest several months after closing.
"It was a lot of work," said Pulio. "One or two weeks before we go down, you rehearse again and have another performance. Then you have to load everything in, drive down, practice."
English and theater teacher Mrs. Sara Dreiling, who will assume Pulio's role as director after his retirement, said that she hopes to eventually bring a show to Theatrefest–but it will take significant effort from everyone involved.
"I would love to take a show to Festival, but we're a while away from being able to bring a show. It takes years of pre-planning," said Dreiling, "but it's an amazing, exhausting, exciting experience."