Homecoming 2022 Best Dressed List
Who dressed to impress this year?  
Every grade this year killed the game with unique and colorful dresses. You could tell everyone put a lot of thought into their outfit and made sure they paired their attire with the perfect jewelry and shoes. Out of all the fantastic looks from Homecoming 2022, here are eight of the most memorable looks from this year's homecoming.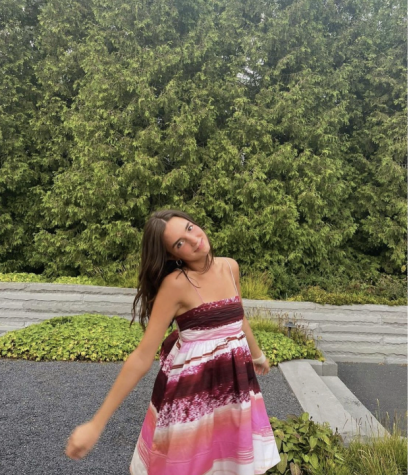 First up is Freshman Eliza Carrabine. This dress caught a lot of attention from girls. The shades of pink gave Eliza a gorgeous look to her dress, and the dress was finished off with a big bow tied up in the back. Her dress blew a lot of people away. This dress was not only eye-catching for many, but elegant too. Her dress was so unique and colorful, and it had so much personality to it. The thin straps giving it a strapless effect from afar worked so well with this dress. Eliza purchased this dress from Aje and matched it with Steve Madden heels, then finished the look off with gold jewelry.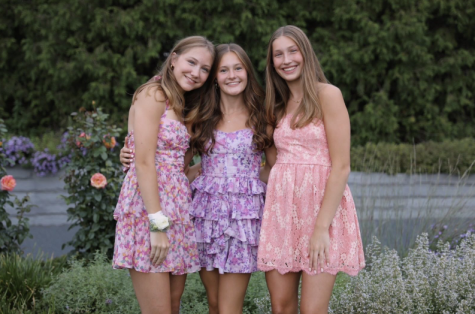 If you know Anna Jasper, you see this dress fits her perfectly. Her pink and purple floral dress fit perfectly with the bubbly personality Anna always has. Anna purchased this dress from Revolve and paired it with a gorgeous gold metallic heel from MIX NO. She topped this outfit off with gold hoops and a necklace from Valentina.
Every freshman went for unique looks this year, and showed us they are ready to bring it for the upcoming years.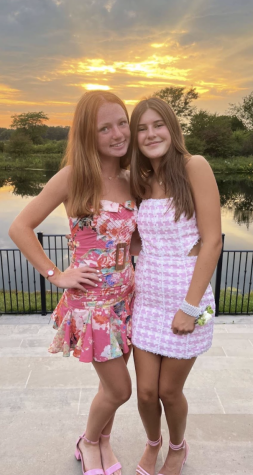 Here are two Sophomores who went for different pattern looks and one-upped the dress game for many. On the left is Michaela Berry, and on the right is Anna Braun. Both are going for slim-fitting dresses with pink heels. Michaela's dress had a lot of personality to it. From the pop of bright colors to the belt being hidden in her dress, it gave that hint of something different than the rest of everyone's dress. The bottom of the dress was perfectly accented with a slight ruffle effect. Michaela purchased this dress from Revolve, giving her look even more color with these simple but adorable Steve Madden heels. Anna Braun was the talk of the night with this dress. Tons of girls couldn't stop admiring this look she had going with this pink and white houndstooth pattern with the perfect cutouts on each side of her dress. Anna purchased this dress from Retrofete and added more pink to her look with these Steve Madden heels. I think everyone can agree these girls had terrific looks for the night.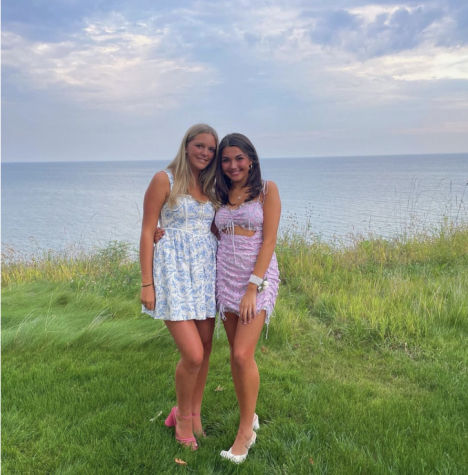 Junior Lulu Flavin wowed the crowd with this exquisite dress. The gorgeous blue design that stuck out to many people on this dress brought out Lulu's blue eyes. The white detailing at the top of her neckline was like no other night's dress. The silhouette of this dress was the perfect combination of tightness and a little flow. Lulu purchased this dress from For Love and Lemons and made a statement by adding the pink shoes from Sam Edelman.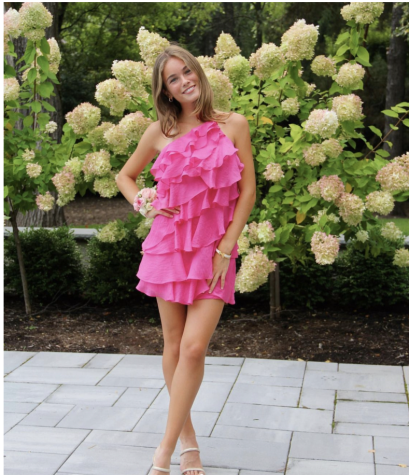 Senior Victoria Lang never fails with her dresses. This gorgeous pink ruffle dress was a hot topic of the night. This dress amazed me and so many other people due to its originality and stunning qualities. Victoria purchased this dress from Amanda Uprichard and paired it with simple but super cute strappy heels from Dolce Vita. The ruffle with one shoulder was a fantastic combination, and she pulled it off like no other. Nobody else had a dress like this, one of the best dresses of this year's homecoming.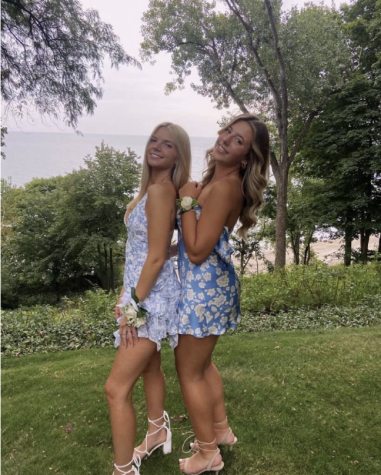 Finishing us off is senior Alexa Schweitzer. She amazed everyone with this dress. This silk dress was super elegant and flattering. With this beautiful white design on top of this gorgeous blue color, Alexa stood out compared to others. The simple yet so sleek draping of the back managed to keep this dress simple but exciting. A strapless dress gives such a sleek look that pulled this dress together. Alexa purchased this dress from Bec & Bridge.

Taylor Rode showed the junior class and the rest of the grades how to style a dress. This amazing dress is so original compared to many others, with all the factors that pulled this dress together. Tying in bows on each side from the top of the dress adds a cute and fun look. Having the middle with some cutouts and tying at the neckline giving a different look than other girls had to go on, ending the dress off with a ruffle bottom. Taylor pulled off the sneaker look and did something different, which she pulled off so well. Taylor purchased this dress from Revolve and matched it with Golden Goose shoes. Adding to her look, she had a Prada bag.