An Overview of Illinois' 2022 Elections for Governor and U.S. Senate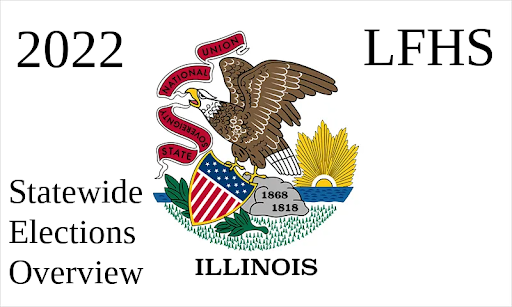 Illinois is known for its interesting, and in many ways unique, political landscape, and once again this year we will see those aspects in action. This year's midterm elections, with the primary in June and the general election in November, feature multiple races in which the results will truly impact the lives of people here in Illinois.
Illinois is generally regarded as a "blue state" because it typically votes for Democrats at the state and federal level. The state has voted for Democratic presidential candidates in every election since 1988, when it voted for George H.W Bush.
However, the state hasn't been entirely one-sided at the state level. Illinois has sometimes voted for Republicans for lesser offices during "red wave" years when Republicans are doing well nationally. In 2010, Illinois elected Republican Mark Kirk to US Senate, and in 2014, Illinois elected Republican Bruce Rauner to become Governor.
America's political situation is at a unique point this year, and Illinois is no exception to that. Many experts are predicting another "red wave" where Republicans will make gains and do better in elections than expected.
This Republican-favoring environment is as a result of the poorly-regarded condition of the economy, including rampant inflation and food shortages, which have been attributed to the Biden administration in the white house, as well as the Senate and House which are both currently controlled by Democrats.
The two main elections with competitive primary elections this June are the races for Governor and US Senate. This article will analyze the races and give summaries of the candidates.
Governor
The current Governor of Illinois is JB Pritzker, who was elected in 2018. Pritzker, a Democrat, has impacted the state in numerous ways since being elected. During his term, Illinois has improved its credit rating for the first time in two decades.
However, Illinois has seen problems including a surge in crime over the past two years, as well as a general loss in population over the past 4 years which has been attributed to people leaving due to high tax rates.
Pritzker has intervened in numerous controversial social issues during his term. Under Pritzker's tenure, Illinois has legalized recreational marijuana. Pritzker also signed an order to mandate tampon dispensers in boys and girls bathrooms from grades 4-12.
Challenging him on the Republican side are several candidates with unique backstories and platforms. The most high profile candidate currently is the mayor of Aurora, Richard Irvin. Irvin is being backed by large sections of the state's GOP establishment, including former Senator Mark Kirk, and is being funded with over 25 million dollars by Illinois-based billionaire Ken Griffin, used mainly for TV ads that have covered the airwaves in recent months.
However, Irvin has attracted skepticism from conservatives in the state. Irvin is on the record as supporting the Black Lives Matter movement, and under his tenure as mayor Aurora has been a "sanctuary city" where illegal immigrants are exempt from federal immigration law. Question have also been raised regarding his voting record.
Irvin's campaign has also been under fire for actions deemed as corrupt by outsiders, such as the busing of apparently paid voters to influence the numbers of the Lake County GOP straw poll, as well as surrogates being accused of attempting to rig local endorsement votes.
Irvin is being challenged from the right by several candidates. Among them is Jesse Sullivan, a venture capitalist and 5th generation Illinoisan from Petersburg, located in central Illinois. Sullivan, an Irish Catholic, is seeking to emulate conservative governors like Ron DeSantis in Florida and Glenn Youngkin in Virginia.
While Sullivan is an outsider and lacks statewide party support, he has seen notable support from law enforcement, and over 20 county sheriffs and states attorneys are backing his campaign. Sullivan is also being backed by the Lake County GOP. Financially, he is mostly self-funded. Like other candidates, questions regarding Sullivan's voting record and his service as an army civilian in Afghanistan have been brought up by voters.
Also from the right of the Republican aisle is state senator Darren Bailey. Bailey is from Xenia in deep southern Illinois, where most of his support base is also from, and is considered to be the most "Trumpist" of the candidates in the GOP field for governor, focusing mainly on election integrity and abortion.
Bailey is being backed by several pro-life groups as well as Jeanne Ives, who challenged Gov. Bruce Rauner from the right in the 2018 gubernatorial election. Financially, Bailey is being backed by conservative Lake Forest-based billionaire Richard Uihlein, who has donated extensively to Trump and other Republicans in the past. Just like the other candidates, Bailey has been faced with skepticism over his voting record.
Other candidates include Lake County-based businessman and co-founder of Turning Point USA, Gary Rabine, whose support is mainly confined to Lake, Cook, and McHenry counties, as well as former state senator from southern Illinois Paul Schimpf.
US Senate
The incumbent senator in Illinois that is up for re-election is Democrat Tammy Duckworth, a combat veteran of the Iraq war, who was first elected to the office in 2016 and previously served in the US House of Representatives.
Republican opponents to Duckworth include Kathy Salvi, wife of former Illinois state representative and 90's Republican institution Al Salvi. Salvi is from Wauconda, and has won several local GOP endorsements in northern Chicagoland.
Also running is Bobby Pitton, a conservative activist who currently resides in Geneva in western Chicagoland, who has gained attention for activism regarding alleged fraud in the 2020 Presidential election.
Other candidates include parent activist Matt Dubiel from Naperville, and veteran and former police officer Peggy Hubbard.
Much less money has been devoted to the senate race as has been the gubernatorial race, mainly because of a Republican strategy focusing on what is seen to be a more winnable governor's race.
We are already seeing yard signs in our town, and soon more and more political events and displays will pop up across the Lake Forest and Lake Bluff community.
The primary is this June 28. If you are aged 17 but turn 18 by November, you can still vote in the primary election.