The Forest Scout's 2022 Coach of the Year: Phil LaScala
Fiery disciplinarian is the winningest coach in program history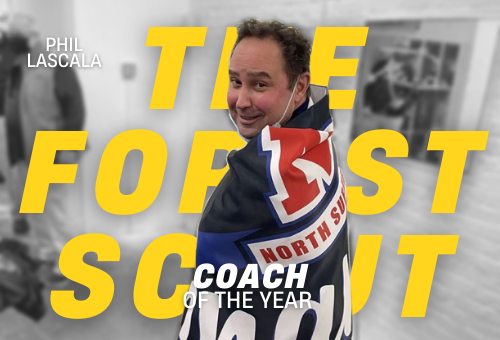 The somber Lake Forest basketball players walked through the St. Patrick High School halls in a daze. Moments earlier, a St. Patrick player ended the Scouts' historic season on an unbalanced, fade away, mid-range shot.
Entering the away locker room to console the confused and heartbroken Scouts was Head Coach Phil LaScala, who pushed and encouraged the team to it first North Suburban Conference championship in 13 years.
"One of my personal things is to be prepared for every situation and know that my players are always prepared for anything thrown at them," LaScala said.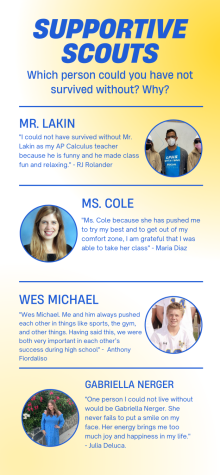 LaScala is also rumored by the players to have woken up at 3 a.m. before a clash with Deerfield, to scout certain players he believed to not have enough information on. They went on to win by 52-37, dominating in every facet of the game.
"The players have a busy schedule. They go to school, then they have homework, then they have two hours of practice. They might have weights or film one day, so sometimes I can't put them through a film session for two hours," LaScala said.
On top of the team's meticulous preparation, LaScala's key to coaching is "discipline."
"My big thing is not letting them slip. If you give them a little bit, they're going to take a lot. If you don't make them accountable for different things, then they're probably going to make that same mistake. So I think it's really important to stay on top of it," LaScala said.
This emphasis on discipline impressed senior Louis Novelli.
"He's always working. He'll get to the school at six in the morning and be working while watching film all day. It inspires me a ton and it shows me how to be successful by staying disciplined," Novelli said.
LaScala says "balance" is key.
"I think you have to have a fine balance of making sure that you are stopping their mistakes and making sure that they know that 'hey that it is not acceptable, ok, that is going to be called a travel, getting your hands on them defensively, they're going to call that a hand check,'" LaScala said. "If you just let those things build up, then the same thing is going to happen every game."
Besides coaching , LaScala teaches Business Incubator and marketing. In both, he emphasizes the importance of relationships.
"Coaching has taught me how important relationships are," LaScala said. "I learned that you gotta make sure that at the end of that day, they understand why you were tough on them, or to just compliment them on what they did well.
Coach LaScala graduated from Benet Academy and attended Eastern Illinois University for College. He then moved on to work in sales where he gained his expertise for the Business classes he now teaches. In 1997 he started teaching at Mount Carmel, where he coached baseball and basketball. After that, he moved to Lake Forest High School, where he has since been, building up the boys basketball program to become the top team in the conference.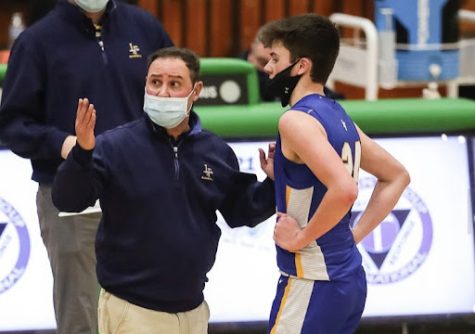 He's won 285 regular-season games, the most in the program's 87-year history.
"I've always thought he was the hardest-working coach in the building – just from the outside-  but now that I've seen it as a coach myself in the program, I know he is the hardest working coach in the building," Coach Ray Del Fava said.
"It's even transferred to the baseball field, having Cade [Nowik] and Tommie [Aberle] out there. When someone wouldn't hustle for the ball, Cade would always yell, 'Not in LaScala's program!'" Del Fava explained.
This impact comes from his emphasis on teaching rather than coaching.
"You teach, non-stop teaching. It's a sport too, but you're constantly teaching. The coaching aspect is more, game stuff. Practice is for the coaches, games are for the players. You need to make them prepared as a coach," LaScala said.
Del Fava complimented his "fiery type personality."
"Maybe it's just him trying to make up for his lack of height," he joked.