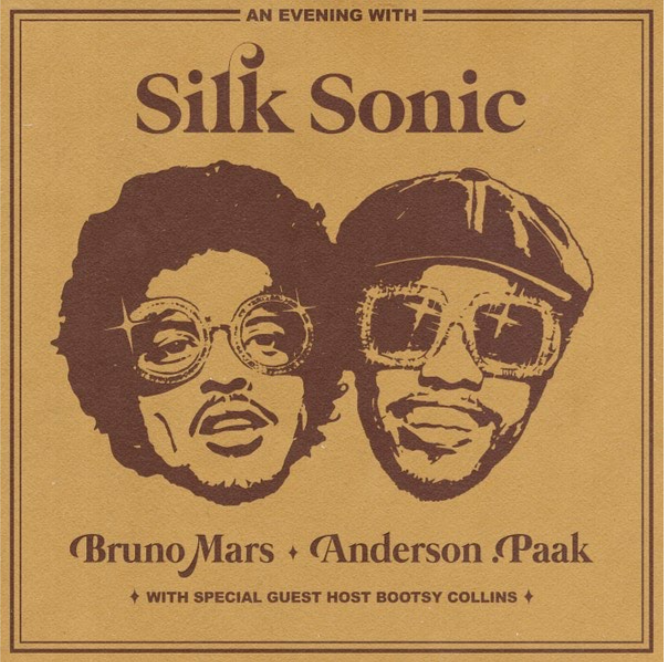 The name speaks for itself; Bruno Mars and Anderson .Paak's "An Evening With Silk Sonic" will take you along for a performance, not just an album.
The evening starts off with Silk Sonic Intro, a groovy opening song introducing the host, Bootsy Collins. Collins, who rose to fame in the 70's, is a prominent figure in the Funk and R&B/Soul genres, making him the perfect host for the album's retro Funk and R&B/Soul aesthetic.
The lead single, Leave The Door Open, is a soft, romantic piece that builds on the album's 70's sound that we were introduced to in Silk Sonic Intro.
In Fly As Me, Silk Sonic embraces the Funk sound with a catchy bass line, a wobbly guitar, and playful vocals.
After Last Night slows down the pace of the album and gives us the typical, syrupy-slow sound of 70's R&B.
The raw emotion in the duo's vocals in Smokin Out The Window pulls you further into the performance, making you feel like you understand the meaning behind each word sung.
The rain played at the beginning and end of Put On A Smile is fitting for the ballad's classic "sitting in the rain singing" sound.
Silk Sonic found their way back to Funk with 777, singing about a glamorous Las-Vegas lifestyle in a fast-paced, groovy style: a stark contrast to the love song that we heard last.
The iconic vocals of Mars and .Paak, paired with the strings, xylophone, and light rhythm guitar in Skate is a perfect transition back to the melodic Soul sound of the album.
We end the night with Blast Off, a song that seems slow at first, but swells into a well-crafted, Soul and R&B filled grand-finale to end the album on a high note.
Mars and .Paak's use of real instruments, incredible vocals, and Collins as a host to create the albums 70's aesthetic heavily contrasts the electronically-dominated sound that most of the current popular mainstream R&B songs use, such as Feel No Ways by Drake, and I Feel It Coming by The Weeknd.
Silk Sonic's use of the 70's sound mixed with some of Mars and .Paak's own flavor makes An Evening With Silk Sonic a unique album that stands out from most releases today.
Overall, this album earns itself a solid 8/10. If you're looking for some new music to add to your playlist, give After Last Night, Smokin Out The Window, and Blast Off a listen.