The U.S. College System Shouldn't Be the Only One You Consider
Being an Australian student at Lake Forest High School, I am familiar with the functionality of Australian education, which is quite similar to the U.K.'s, but I need to know what an American education looks like to make my final decision of where I would like to go. There are unique qualities in the education and college systems across the U.S., U.K., and Australia, providing students with a unique learning perspective. 
Education Systems
The U.S education system primarily focuses on supplying students with knowledge and then testing them on it. You absorb the necessary information, get assessed, and keep doing this perpetual cycle until the big picture or unit is revealed. Your academic performance is then determined by your assignment and test grades and your grades are controlled by your ability to comprehend and recall this information.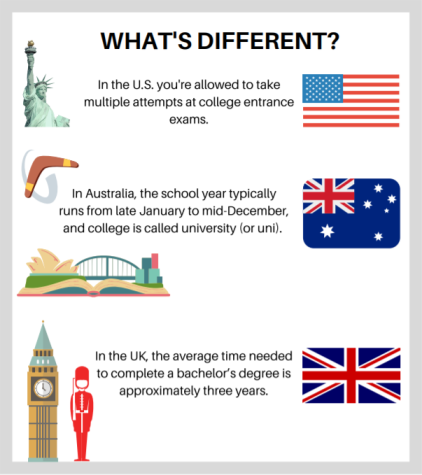 The Australian and U.K education systems encourage independent study. Students are given work that builds on their knowledge in the form of small assignments and classwork, but you do not take tests determining your grades until the very end of the unit. The full picture gets fully uncovered before your knowledge gets checked. Because there is less testing, the tests given have more weight and make up majority of your final grade. 
The required amount of schooling before attending university or college can look different between these three nations. In the U.S and Australia, you are required to complete 12 years of formal schooling before attending college. In the United Kingdom, college and university are two completely different things. You attend college from ages 16-18, and then university for ages 18+. You get 10 years of formal schooling plus an early start in your preferred area of study. 
Admissions
Applying to a U.S college can be a rigorous and selective process. Admissions are based on college entrance exams (SAT/ACT scores), your high school GPA, your extracurricular activities, etc. College admission boards use holistic review to evaluate applications so they can construct an overall image of this potential student, and decide if they will make a nice addition to their college community. Depending on when you submit your application, hearing back can span anywhere between a couple of weeks to a couple of months.
Because of the different curriculums and different expectations, the application review process looks unique across different nations. The majority of application requirements look the same, but some are tailored by colleges so they are accepting students with preferred traits. For example, in Australia, there are certain test scores and grades you must receive to get accepted. There are not several layers that play into your admission, like the U.S. More application components do not signify it's a better school. These institutions are looking for applicants that fit their mold, and will either use a small or large amount of information to do it.  
Senior Niamh Fernely will be applying to and attending university in the United Kingdom. "You can only apply to five schools and choose one course to apply for each," she said.
Similar restrictions also occur in Australia. In the U.S. there are no restrictions. There may be self-determined limitations, but you can choose the number of schools you apply to. Navigating the different application processes can be complex, but grasping what each application process consists of is crucial to anyone's future education. 
Culture
U.S colleges and universities pride themselves on their school spirit and boisterous sense of community. Whether it be a concert, a football game, or students living on campus in dorms, there's always a sense of pride. 
A lot of international students find the dynamic atmosphere in an American college to be a surprising component of the education system. You are given more of an opportunity to share your voice and be more active in your education. There is much more of a focus on the communal and social aspects of college. 
Cost
The accumulating cost of college anywhere can be an overwhelming and expensive investment. Sometimes your institution decision can ultimately come down to cost. The way to decipher college costs is to know what you're paying for. The costs can consist of tuition (the amount charged to be a student), college fees (costs associated with your education), books and supplies, room and board, and daily personal allowances. 
U.S college fees can be astronomically high. A lot of parents in the U.S begin saving for their children's college close to the day they were born. That's 18 to 19 years' worth of savings, and sometimes it isn't even enough. In the U.K., college and tuition fees are lower and more manageable, and are even lower in Australia. Considering there are currency differences, it's important to remember that just because the overall costs can look more or less expensive, you should consider all institutions. 
The concept of attending college can be a daunting idea to comprehend. Knowing where and what you want to study can be a hard thing to identify. Having options and numerous possibilities to further your education is something we can easily take for granted.
So, take advantage of the institution options available to you. There are multiple paths you can take to reach your final destination. Remember that no system is better than another; they're just different!