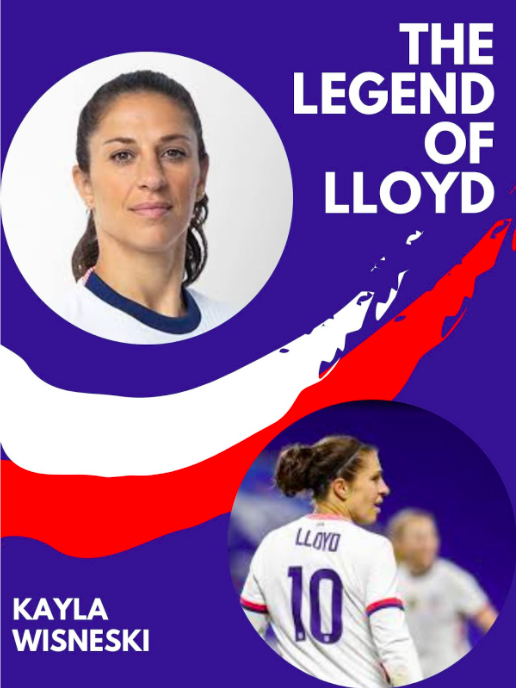 Throughout the past few years, the US Women's National Soccer Team has been headlining the news for many reasons. From their fight for equal pay to their undeniable presence at the 2021 Friendlies, they have been subject to plenty of media attention, both good and bad. But recently there's a new reason for the abundant press: the retirement of record-breaking player Carli Lloyd.
Lloyd announced her retirement in early October, shocking fans everywhere. At age 39, she has had one of the most successful careers ever in women's soccer, playing 17 years with the US National Team. 
"When I first started out with the National Team in 2005, my two main goals were to be the most complete soccer player I could be and to help the team win championships," Lloyd said.
The announcement was made less than two weeks after Lloyd helped the USWNT win bronze at the 2020 Tokyo Olympics. Although most thought they would be in the running for gold, it was with Lloyd's help that they were able to bring home the win. After Lloyd scored two goals in the medal-deciding match, the US went home with a 4-3 win. This added yet another Olympic medal to Lloyd's impressive record, now totaling one bronze and two gold.
But medals are far from Lloyd's only accomplishment throughout her career. She made history during the same bronze medal game by earning her 312th cap (number of games played for the team). This moved her past Christie Pearce and into 2nd place on the list of most USWNT caps, and is now one of only four players to ever play over 300 games. Her goals also helped her earn the title of highest scoring Olympic athlete for the US, both men and women. Finally, she became the first USWNT player to score in four different Olympic games. 
"Through all the goals, the trophies, the medals and the championships won, what I am most proud of is that I've been able to stay unapologetically me," Lloyd said.. 
Lloyd's overall career comes second to none. With 134 total goals, she has cemented herself as the third highest scoring US women's player of all time. She has won countless awards, including the illustrious Best Fifa Women's Player (2017) and FIFA World Player Of The Year (2016). She has also won the World Cup twice, once in 2015 and again in 2019. In that same 2015 final, Lloyd scored the fastest hat trick in Women's World Cup history, taking only 16 minutes. 
The team's general manager Kate Markgraf called Lloyd the "embodiment of the DNA of a USWNT player."
#10 left the field for the last time on October 26, after a 6-0 win against South Korea. Lloyd's departure will undoubtedly leave a large hole in the team's lineup, but her historical career is one that will be celebrated for years to come. 
"Those 34 years playing this beautiful game, it has been an honor. I have been absolutely grateful every time I stepped out on this field, and I hope you know I gave it everything I had for every single one of you. I will never forget this moment." Said Lloyd.