The Triumphant Return of Scout Pride
Over the past four years, I have been to hundreds of Scouts games and seen hundreds of different crowds. However, I've never seen a student body so engaged with their Scouts as this year. From Friday night football games to late-night hockey games on a Monday night, the Scouts have shown up by the hundreds. 
"I think kids are excited and realize what they missed. People are dressing up, and everybody is all in. People are going all out for these events," Dean Michelene Tomek said.
Joining Scout Nation at the beginning of my freshman year, I was always highly engaged in Scouts sports. Still, I never saw the same return from a bulk of other students like this year. Not only are Scouts fans showing up in numbers, but they are louder than I've ever seen.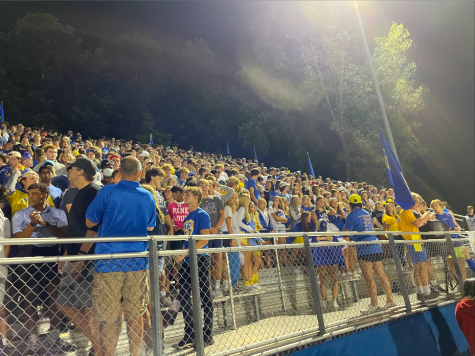 "It's been a long time coming for all events, and I think people are very genuinely excited about them," Dean Frank Lesniak said. "This senior class has been extremely, extremely spirited."
During the Libertyville football game a couple weeks ago, I walked to the concession stand at the other end of the stadium. While glancing back at the game, I saw a Libertyville receiver drop the football. Immediately, I heard roars from the ocean of neon that was our away student section, chanting, "Bu-tter-fing-gers, Bu-tter-fing-gers!" 
I was on the opposite end of the stadium. I couldn't hear myself think, nor could I stop myself from laughing out loud at the reactions of the disappointed Libertyville fans as the Wildcats were forced to punt yet again. Mr. Lesniak described the game as his "favorite this season."
Even during summer club lacrosse practices, players from random high schools would come up to me and say how hard it was to play at our stadium because of the loud, excitement-filled Scout fans. From what I've seen so far, the spirit of the Scout fans the previous year pales in comparison to this year. 
"I think the school spirit is better than it's ever been," senior Graham Conley said. "I think the freshmen are usually the quietest, but they're doing a much better job this year, and spirit this year is on another level because of that."