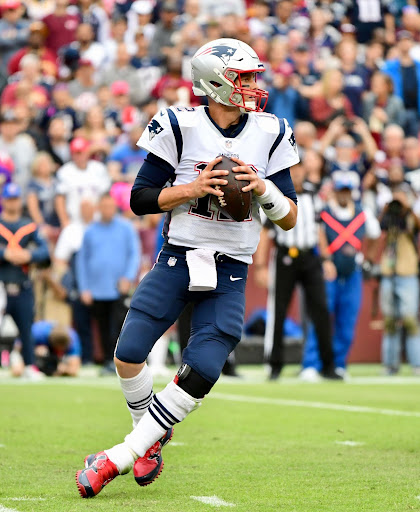 Common Wikipedia
Like many of you, I spent a recent Sunday watching my beloved Bears get slaughtered: 38-3. Tom Brady tossed four touchdowns en route to becoming the first NFL player in history to throw 600 career touchdown passes.
Despite this incredible achievement and the final scoreboard, Brady's face was devoid of emotion, stone-like. He became flustered when he missed his target on a touchdown pass to TE Cameron Brate, and, at several points, he looked disappointed with his ball placement and performance. If you are wondering what pushes this man to be so successful, there it is.
He is in the pursuit of perfection, and anything short of that is unacceptable. After breaking that award and blowing out another team at home, no other quarterback would fail to crack a smile at that moment.
After years of people praying for the demise of Brady to become a reality, the 44-year-old quarterback has shown no signs of slowing down. Last season, Brady played his first professional season as a team member of a team other than the New England Patriots. His former teammates watched from their couches as Brady hoisted the Lombardi trophy for Tampa Bay.
This trophy is all the more remarkable, considering Brady was still recovering from a fully torn MCL during the entire season, sustained in his last year in New England.
Brady has the Bucs rolling in his second season in Tampa with a 6-2 record, good enough for first in the NFC south. Two decades of domination doesn't seem to be enough for the GOAT, who currently leads the NFL in both passing yards and touchdowns. With his recent production, a question has emerged: Is this the best version of Tom Brady we have seen?
Many will point to Brady's 2007 MVP season as his peak. A season filled with long balls to the Hall of Famer Randy Moss and a 19-1 near-perfect season that was brought to an end in the Super Bowl by the infamous helmet catch.
The day after Tom Brady won his 7th Superbowl, he was back to work, perfecting and fine-tuning his mechanics and trying to get every ounce of zip on his balls out of his 44-year-old body. You can be mad that he has whooped upon your favorite team over the years, (unless you're a Giants fan), but you have got to admire the run this man has put together.
To be wildly successful for over two decades in the most violent professional sport is a remarkable achievement. He no longer deserves to be compared with the best football players of all time but the best athletes in general.
We all have the blessing to watch someone who should be mentioned in the same sentence as Jordan, Ali, Woods, or Gretzky. At this point of his career, the only person Brady is competing with is himself, and until the day he hangs up his cleats, we should watch in awe.