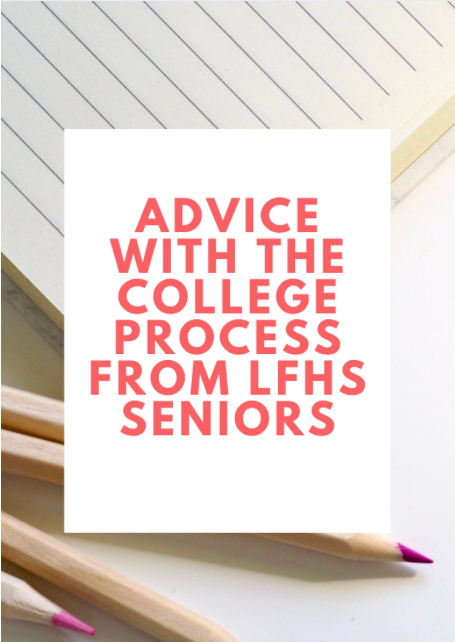 With early action and early decision application deadlines coming to a close, many seniors are getting the majority, if not all of their college applications submitted. With this said, many seniors are pros at the whole college process by now and have a lot of valuable advice for the juniors who are about to start their own college search. 
Of course, there are the more obvious tips, like starting your essays early and trying to get them done over summer. However, there are also some tips that many seniors wished they had known sooner that might not be so obvious.
"One thing that I found to be very helpful, but I wish that I had known it before I wrote some of my essays, was to really do a lot of research on what you want to major in. Find certain classes, professors and clubs that you might be interested in to write about in your essays, especially if the essay question is 'why us', " senior Chloe Mutter said. "Colleges want to know that you will get involved and be a valued member of the community, and actually knowing what you are talking about and having specific things to write about that are unique to your school will really be impressive to admissions counselors." 
This is a key idea in writing the 'why us' essays that almost every school asks. Just stating that the size is good, the student-faculty ratio is perfect and the campus is beautiful won't tell counselors why their school is the perfect fit because this could apply to many different schools. This being said, if one feels strongly enough about these aspects, it can be beneficial to mention. 
The more specific students can be in their essay, the most successful it will be. Talking about what one plans on majoring in is also essential; if a student is undecided, they should state that and explain why they have not decided. 
"One thing that I found essential in the writing of my personal statement was trying to stay authentic to myself and being very unique. It is no secret you try to create a unique essay, but starting with the most seemingly insignificant idea or situation and building off that can make the best essays. It is just so important to make sure you are writing about something you are passionate about because the more genuine the story is, the more likely it is to be a good indicator of who you are as a person," senior Errol Rorbach said.
Another part of the application that many do not know about is the area where students can write more about themselves. It is optional and it is on the Common Application, but it makes for the perfect place to explain any dip in grades, lack of activities or just any interesting facts that admissions counselors should know about. Counselors only get a 650 word essay to get to know students, so it can be very helpful to add additional information so that they can get a good sense of the students. 
"On the Common Application, I filled it out all at once rather than school by school, and I think students in the future should focus on one school at a time; once they fill out the individual application, they then write the corresponding essay for that school," senior Sheridan Leahy said. "It just makes it a lot easier to stay organized and not get overwhelmed." 
This is a key tip in the college process. It is essential to try to not get overwhelmed and take the process one step at a time. Because of this it is very helpful for students to organize themselves in a way that works for them. 
One aspect of the college search process that many students did not have the chance to experience because of Covid was visiting schools. When students visit schools, it provides a chance to get some details about the school to write about in your essay, and it is the perfect opportunity to try and learn about what size school students want to attend. 
College counselor Mrs. Miles shared her thoughts on the whole college process.  
"Common App prompts are released in April so students can have a lot of time to do it far in advance. It is also very helpful having a resume collected to use that you can upload in the common app," Mrs. Miles said. "When you are visiting campus, take notes and write down specific things to use in your essays for that school."