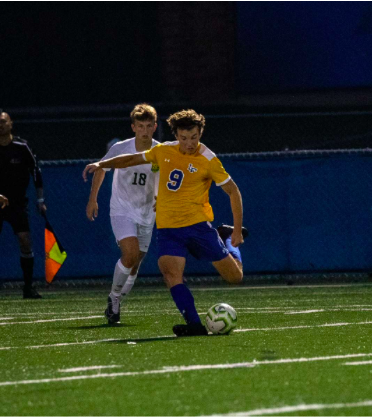 Each week Scouting out the Scouts will profile one successful athlete. Last week, we checked out Meg Margolis's success.
On Tuesday, Scouts Soccer finished off their regular season with a tie to Vernon Hills. A hot start of 4-1 record-wise was then followed by Covid issues and missing personnel to end the season at a solid 6-6-5. This still is the best recorded season in the past couple years and certainly an improvement to the 2-7-2 record posted in last year's season.
This season's Scouts team also has an advantage in comparison to previous years: a switch from Class 3A to Class 2A for the playoffs.
"It is a big help for the early rounds of the playoffs, but we still have to have the same mentality going into every game," junior Jack Rice said.
Rice is a huge contributor to the success of the team this year. A member of the varsity team for the second straight year, Rice has always been playing at an elevated level. Whether that was playing up with the sophomores his freshman year or playing up a year for his club team, Rice can compete with just about anyone. 
This season, Rice has gotten it done. 7 goals and 1 assist for the junior is a stellar statline, especially when you account for a hip flexor injury that has been bothering him all season. He is tied for the top scorer and is seen as the number one option by all of his teammates.
Even though Rice is a junior, his leadership runs through the team: "Jack is a key point in the offense. He is able to create something out of nothing which has made us successful this year. When we are down in a game and need something going, we look to play through Jack. He is also a good teammate who helps push our team to get better through his great play," said sophomore teammate Dominick Ziaja.
"I've experienced a lot of times that the team struggles when my energy level drops and that has happened too many times," Rice said, "But my confidence level is high for us going into state as our team is starting to fully recover from injuries, sicknesses, and lack of functionality in our tactics."
The soon to be captain will have his first shot at a state series run this year, and will for sure make a good impression that will carry on to next season. 
The Scouts take on Woodstock North on Tuesday the 19th at Vernon Hills High School for their regional quarterfinal.