Scouting Out The Scouts: Jack Marshall
In the first rendition of his new series, Staff Writer Nick Fontana highlights a successful Scout athlete every week, starting with senior golfer Jack Marshall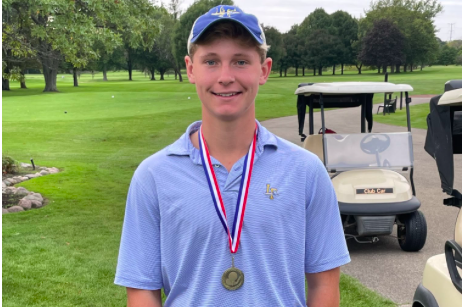 In the past two weeks, the Lake Forest Golf Team has been rolling. Most recently, the Scouts won Regionals on Wednesday, led by senior Jack Marshall with a 69 first-place finish. On Saturday, the Scouts hosted the McDermand Invitational at Lake Bluff Golf Course, where the team placed second with a 69 from Marshall and another first-place finish individually.
The Scouts also won the North Suburban Conference tournament on Sept. 21, also led by Marshall with a 71 and a first-place finish individually.
Marshall, a 4-year varsity starter and captain of the team, has been successful on the course since his freshman year. He helped the scouts to a fourth-place finish at state in his freshman year and, in his sophomore year, shot 154 overall over two rounds to help the Scouts secure the state championship
In a very odd and shortened season in the fall of 2020, Marshall took his golf skill to another level. In the regional final for the Scouts, Marshall shot a 66, breaking the 3A regional record. Unfortunately, there was no state championship due to the Covid-19 outbreak, and he could not showcase his skills at state for the third straight year.
This year, Marshall is looking to avenge the lost season: "Last year was tough not  having the state tournament with such a great team, but now we have another opportunity to get down there and are playing some of our best golf. It's also a great experience and I want to be able to go through it with my teammates and potentially bring it back home," he said.
Marshall is also a great teammate and leader on the course: "I think we all kind of take having Jack on our team for granted because he's been with us for so long," said teammate Eddie Torosian. "He literally wins almost every tournament we go to and is a great captain who is always super supportive."
Marshall and the Scouts now look ahead to sectionals on Monday, hoping for another top 3 finish to get to state.