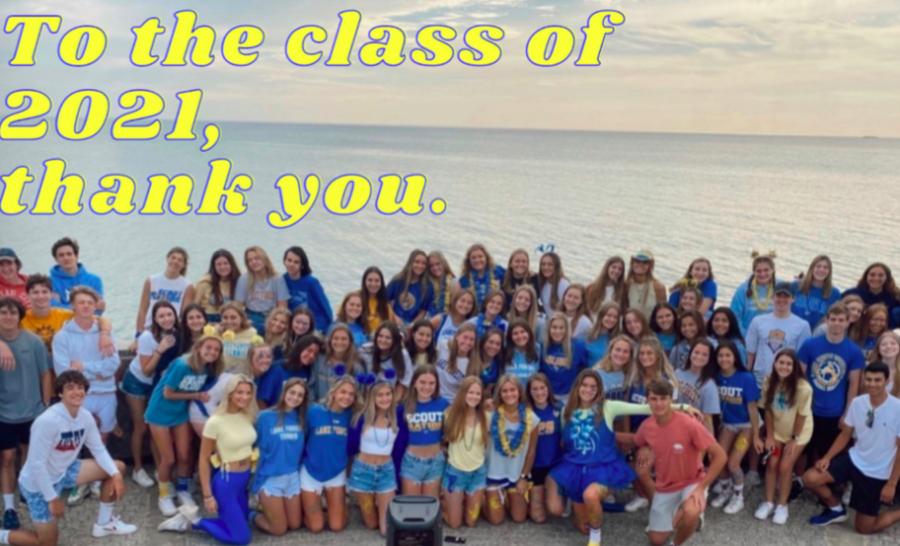 This year has been like no other. I feel like that phrase has been on repeat since March 15th, 2020. It's one thing to say it, but another to live it.
Seniors, I don't know how you did it. Seriously. 
Last spring you had to navigate the hardest year of high school during a budding pandemic, and now this year you're trying to make the best of your victory lap without a fraction of your peers. 
Thank you, seniors. 
Thank you for being role models for all of us. Thank you for showing us that, even in the worst of times, we can still live and we can still just be normal teenagers. Going to football games, spirit week, decision day, all with masks and taped X's marking where we can stand. 
Being the oldest in the school, everyone looks to you and responds to how you guys set the mood. No question, if it weren't for Mary McKendry, Carmel Hickey, Sophie Gambit and Avery Robb cheering their hearts out and dancing at the last football game, I would've thought of better places I could've been.
These graduation countdown reminders around the school are serving as a wakeup call for us juniors; they are warnings that next year that'll be us. We will be the example that all the younger kids look to. 
Thank you seniors for proving time and time again that all of the other grades need to step it up a notch. 
I cannot think of a single time where this year's senior class has lacked any energy. Compared to you guys, we all need to wake up and get our pep on. I guess we've all got to practice our SCO's for next year–the stands will be a little quieter without you. 
Thank you, seniors, for always being the guinea pigs.
I mean when we were freshman, you guys were getting your license. When we were getting our licenses, you were taking the ACT/SAT's. When we were taking the ACT/SAT's, you guys somehow are already graduating and wearing decision day shirts. Seniors, you were there to fail before we even tried. You were the first to take those monumental leaps and we were just in awe, waiting until next year when it was our turn. 
Thank you, seniors, for proving how fast time really is. 
You hear probably from every single teacher, adult, movie and song that high school flies by. However, it's different when you see the grade who has been there almost as long as you have graduate. I don't really know how we are supposed to navigate senior year without you. Knowing that all of you managed to pull off an awesome senior year with a hybrid schedule gives me some hope. 
It's unfortunate for me because I feel like I'm just now starting to really become close with some seniors, and now you guys are leaving. Mimi Fiengold, I wish you had been my Law Honors TA a little sooner because in a few months you'll be off to Boulder, and I wish we could've had a little longer to keep going to fun dinners at Authentico.
Thank you, seniors, for basically dominating all sports teams. 
In the tennis program alone we lost 19 seniors, and the varsity roster dropped by 50%. At the last football game, watching all of the seniors walk off the field, my friends and I realized how weird it will be not seeing them there next year. Of course after the game, the Instagram pictures started rolling in. It was honestly so bittersweet seeing all of the memorable goodbye posts. I mean, we're going to need to find some really good new recruits–we're left with some big shoes to fill.
Thank you, seniors, for always being so welcoming. 
Maybe what sparked me to write this was the fact that CROYA Executive Board elections were May 5th. You seniors have been such a big influence in that organization alone, along with so many others. Seeing all of you being the audience and not the potential candidates truly made me sad. What is it going to be like next year when all of you are gone? 
The truth is, none of us know. But what we do know is that you've set the bar high.
Class of 2021, thank you. 
Thank you, seniors, for always being leaders. Thank you for showing us how it's done.