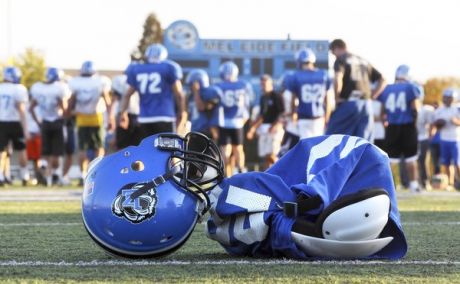 "The activity was egregious and warrants discipline, including suspension from school activities."
That's what the letter to the parents and players of the Lake Zurich Bears football team said this fall before a playoff game against Fenwick. This document was sent due to one of the worst hazing scandals in recent history. The Bears, one of the most successful and storied high school football programs in the area (including an IHSA State Championship in 2007-08), had a tradition that included team dinners each Thursday night throughout the football season. Prior to the meal, there were unsanctioned actions that occurred in the locker room. Coach David Proffitt declined to comment, but District 95 spokeswoman Jean Malek said, "any concerns raised about student misconduct are taken very seriously and are investigated thoroughly." The misconduct is in direct referral to hazing. After the investigation, players and coaches were suspended, disallowed to participate in school activities until they attended the required anti-hazing workshop with online modules that included pre and post tests.
Many people think that hazing was a thing of the past; perhaps they thought it was something that occurred in the 70s and 80s, but it is still very relevant today. It might not be as bad as it once was, or maybe people are more sensitive to what happens now, but we have to face the fact that it is still very active in society. It is very prevalent in sports locker rooms, schools, especially in college, and in daily life. Bullying is a form of hazing and with the addition of cellphones as commonplace for all teens, online bullying has become perhaps hazing's most dangerous ally. When people are bullied, often no students do anything to curb the behavior. It is only the administration, coaches, or teachers that step in to prevent the acts from occurring. Students, especially younger underclassmen students, are often not willing to speak out because of the potential social ramifications of being a "snitch" or "tattle tale," rendering them outside of the team's inner circle of friends. In locker rooms, teens are not usually supervised. Due to the Penn State University scandal and the backlash that followed, coaches are required to take an online program called Safesport. Safesport teaches coaches to not be inside the locker room while their players are changing, but if they are not supervising, there is always that chance of hazing.
The hazing at Lake Zurich is along a similar thread to what soccer and baseball players at Maine West High School experienced in the past. Because we are not aware of the specific details in the recent Lake Zurich case, all we can do as a society is assume that the "egregious acts" committed were vaguely similar in nature to what occurred at Maine West. In 2012, a lawsuit was filed by five student athletes. These students faced horrible hazing rituals that included nudity, battery, and several other actions. Each young student-athlete was scarred from the terrible acts they had to endure. The one million dollar settlement awarded to the five victims who came forward was hardly enough. Each family received $200,000 in the suit. The Lake Zurich case will likely end in a similar way to the Maine West scandal. However, the monetary details of the Lake Zurich case will most likely not be disclosed. 
When we hear the words "sexual hazing" we think of the Penn State Scandal. Jerry Sandusky was found guilty of sexually assaulting at least ten boys who he either coached at Penn State University or cared for at his charity, "The Second Mile." Sandusky was the Defensive Coordinator at Penn State and he used his position to shower and become close with his players over his 32 years as a coach. Sandusky is currently in prison and will serve at least 30 years. What is different about the Lake Zurich case, though, is that the hazing was student-athlete to student-athlete, not inappropriate behavior with kids from a coach (except, of course, for lack of supervision and oversight of team traditions). 
The repercussions faced at Penn State included loss of scholarships and disqualification from bowl game participation. Although IHSA high school football is on a much smaller scale than that of the Big 10 and a major university like Penn State, the ramifications of disqualifications and suspension from postseason play might be similar for Lake Zurich football in the future. All hazing incidents are taken seriously by lawyers, administrative staff, and law enforcement officials. 
For a town like Lake Zurich, a community with a tremendous sense of pride in its athletic programs, specifically their football program, it will take time to recover. Whether the faces of Lake Zurich Varsity Football change in the near future, the stigma of what has occurred on the field is unfortunately something that temporarily will overshadow their recently earned success of what has happened on the field.
Each case of hazing is detrimental to the life of a young student-athlete. Each young man or woman has now endured a hardship that most cannot fathom. Make your voice heard because in today's society, hazing can not happen. We need to be united and end hazing for good, no matter if it is sexual, physical, or verbal. If it is on a sports team, in school, or when rushing a fraternity, spread the word and end hazing.