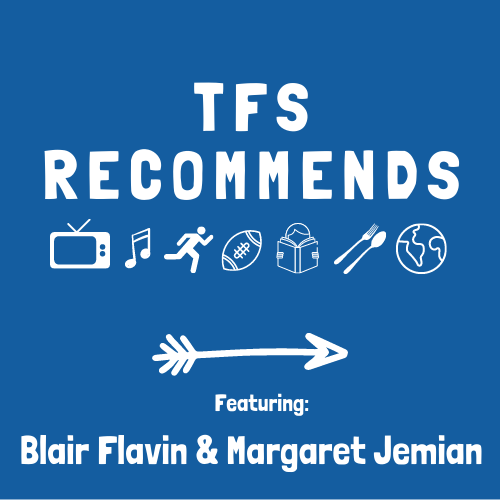 TFS Recommends with Blair Flavin and Margaret Jemian
March 15, 2021
Each week two writers share their current obsessions.
Blair Flavin
Ashley Longshore
Personally, I am super into art and am constantly looking for new artists for inspiration. A little over a year ago I came across a huge artist, Ashley Longshore. I found her through seeing her installation at Bergdorf Goodman and have been following her since. I quickly became obsessed with her fun pop art style, and her way of incorporating her humorous ways into her pieces. I love the way she tries to relate to people by poking fun at celebrities and everyday struggles through her million dollar pieces.
Pajama Sets 
If you're like me, suffering from a severe online shopping addiction, quarantine makes quitting that addiction a bit harder. While there may have been more time, there was nothing I needed clothes for because I was home all day long. This is where my loungewear addiction began. From fun sweatpants, cool unique sweatshirts, and finally matching PJ sets. Everybody loves their Christmas jammies, but why not have that all year round? It makes you feel more put together going to bed, and waking up feeling great.  I have accumulated many fun pairs and found some great brands. My personal favorites are Roller Rabbit, Honeydew Intimates, and Eberjey.
Chris Stapleton
I have been a Chris Stapleton fan for a while now. I have vivid memories of driving up to Alpine Valley with my cousins to go skiing and my dad blasting his 'Traveller' album the whole way up. Ever since then I have loved all his music, but more recently I have become a bigger fan of him through discovering some more of his newer songs. My current favorite song of his is 'Starting Over', which was released last November. That album is filled with so many great songs, and although they are brand new, you could tell me they were released years ago and I would believe you just from the vibe they give off. I love his unique style of country music and his voice is so powerful it gives me chills. 

Needlepointing
Ok ok, before you call me elderly here me out, it's actually really fun. A few friends and I have always seen our parents into it and they have managed to get us hooked too. We have found many different artists that make super cool canvases that you can turn into anything you please. I have found it to be a super relaxing hobby that is a great distraction from the internet and gets your eyes off the screen. Canvas above from Thorn Alexander.
Pad Pro
While this one is pretty major, I definitely think it's something everybody could use. For my birthday, last June, I was gifted an iPad Pro with an Apple pencil. This was primarily for the app procreate and other art benefits, but I have found it works well for many other things. Conveniently when e-learning went in place this fall, I felt it very useful for notetaking and schoolwork. When many of my classmates had to race to their printer and download scanning apps when it came to notes and test taking, all I had to do was make a copy into an app I use 'notability' and then it was easy to transfer back to Schoology. There is also just about any color in the rainbow on the app, so if you're like me and color code your notes, it just takes a small click. While this is a pretty big investment, your old ipad and a new apple pencil could work just as well, but it has truly changed the game when it comes to my schoolwork. 
Leave a Comment
Margaret Jemian
Conan O'Brien Needs A Friend (Podcast)
I started listening to this podcast at the start of quarantine last year, and I have been hooked since! Conan O'Brien, in my opinion, is the best talk show host out there, as he possesses the ability to joke about himself and genuinely laugh, a quality that is seldom considered among talk show hosts.  Essentially, this podcast is an interview between Conan and a celebrity guest (my favorite episodes are those with Keegan Michael-Key, John Mulaney, and Deon Cole), with the occasional interjection from Conan's assistant, Sona Movsesian, and producer Matt Gourley. Each conversation is so easy to listen to and is guaranteed to make you laugh!
"Scenes from an Italian Restaurant" by Billy Joel
Noted by Billy Joel (in an interview with Stephen Colbert) as his favorite song that he has written, this is one of my new favorite tunes.  The song starts off as a somber ballad, outlining specific details within a special Italian restaurant, and then it progresses into an upbeat, feel-good tune that just tells a story! It's seven minutes, but it's all worth it! Plus, it's Billy Joel, so does length even matter?
Monk (2002-2009)
I stumbled upon Monk while channel surfing on a lazy Saturday. I spotted Tony Shalhoub, an actor I knew from the hilarious 90s comedy Wings, and that's when I was hooked. I continuously watch with intrigue as San Francisco's favorite obsessive-compulsive homicide 'consultant,' Adrian Monk, solves homicides with superintelligence and Sherlock Holmes-like skills of observation and deduction.  Each episode brings an incredibly cryptic mystery which is fun to solve along the way, but not without laughing at some strange jokes and spotting celebrity cameos in nearly every episode. Whether it be Kevin Nealon playing a patient in a mental hospital, Angela Kinsey playing a woman lying through her teeth, or Willie Nelson playing, well, himself, there's always so much to look forward to with this uniquely bingeable series!
Spaghetti Western Soundtracks
No, this isn't a podcast or some sort of show; it's exactly what it says it is! As of recently, I have gained an obsession with listening to the music from 1960s spaghetti westerns, primarily focusing on the collaborations between iconic Italian director Sergio Leone and musical genius Ennio Morricone, two of the biggest names in cinema! Iconic ballads and observationally accurate compositions dominate this film genre that defined a generation, with such incredible tracks from The Good, The Bad, and The Ugly, For A Fistful of Dollars, and Once Upon a Time in the West. 
Two tunes I would recommend are "The Ecstasy of Gold" from The Good, The Bad, and The Ugly and "Dopo la Condanna" (translates to "The Verdict") from The Big Gundown. Both are incredibly unique, as "The Ecstasy of Gold" draws the listener in by starting off with a soft baseline and gradually constructing excitement and courage. On the other hand, "Dopo la Condanna" opens with Beethoven's "Für Elise" on the piano, but quickly switches gears to accommodate a guitar lick; an unexpected, but not unwanted addition!
Speed (1994)
This movie. THIS MOVIE. I have declined phone calls and "hang-outs" with friends because I was actively rewatching this movie. I have left parties and celebrations early to go home and REWATCH. THIS. MOVIE. I consider Speed to be the best-worst action movie of all-time, as it possesses this insane (but not unlikely) concept of a police officer, obviously played by the phenomenal Keanu Reeves, who is personally targeted by a presumed-dead bomber, played by the forever-Marlon Brando-worshipping photojournalist, Dennis Hopper, when a bomb is fastened to the bottom of a city bus. The bus cannot go under 50 mph, so you can only imagine the *intensity* and *nail-biting action* existing throughout, especially when it is revealed that there are (apparently)էք no completed highways or subway tracks existing in L.A. Oh, and just to make it even more high-stakes, someone threw a romance in the middle of it all! I guess they'll never learn that relationships based on intense experiences never work out. Their loss. 
Leave a Comment