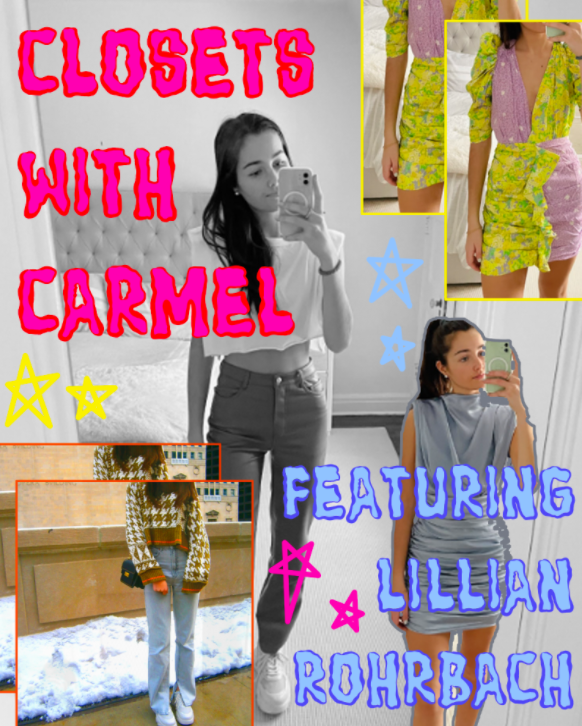 Welcome to Closets with Carmel! Each week, I'll be taking a look into the closets of LFHS's most fashionable students. The effect of the Coronavirus on the world of fashion is no secret, given that it's much more appealing to throw on sweats than jeans when staying home all day. Prior to COVID-19, students with all kinds of different styles walked the halls of LFHS. However, when remote learning became the new norm, students had less motivation to dress up for Zoom classes (understandably). Now that hybrid learning is back in full swing, it has been so refreshing seeing students express their fashion sense in the halls again. This week's edition features senior Lillian Rohrbach. Read below to see her answers to the handful of questions I've asked her regarding the items in her closet, from her oldest item to her most cherished.  
What is the oldest item in your closet? The newest?
"The oldest item in my closet is this red set from Urban Outfitters. I have worn it to many events. It's a great go-to outfit to throw on if you're in a rush. The newest item in my closet is this super cute dress from Aritzia. I recently got it on sale and I'm so excited to wear it. I love how elegant it looks, plus it's so comfortable."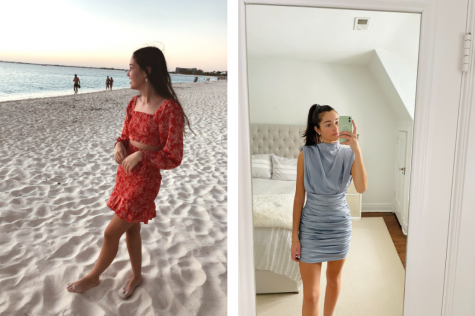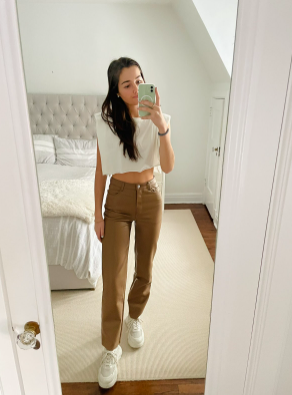 What is an item you splurged on? 
"These are the Melina leather pants from Aritzia. They were a little pricey but I loved the brown color and I knew I would wear them a lot. I especially love how you can style them differently; you can make a comfortable or fancy look."
What is the most affordable item (that you use a lot)?
"These are chunky off-white shoes from Nasty Gal. I got them on Black Friday for only about $20! I have worn them so many times. They're the perfect shoe to use when you want to wear sneakers but want to dress up your outfit a little bit."
What are your top 3 items right now?
"My first item is pearl earrings in the left picture. They go with every outfit and I've started to wear them a lot more lately. The next item is ASOS grey jeans in the middle picture. They have these cute slits on the bottom which are a great detail. I have worn them so much already. The last item is a black leather blazer. I think this is a great staple piece to have in your closet, it's so comfortable and will make every outfit look very sophisticated."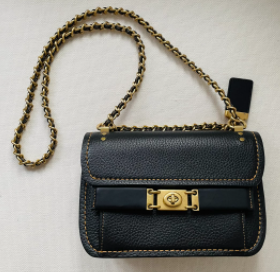 What is your favorite piece that you've gotten as a gift?
"For my birthday, my parents got me this Coach black purse. I love how the straps are adjustable. You can wear it as a shoulder purse or cross-body."
What is your most comfortable item?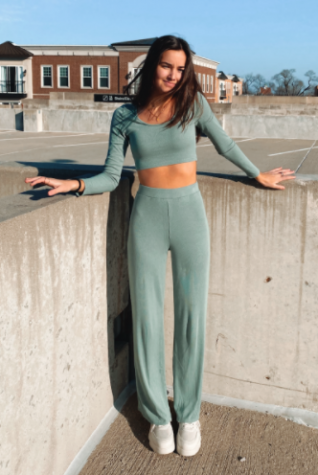 "This green Shein set is SO comfortable. It's the perfect "cute but comfy" outfit. And, you can wear the pieces separately or together."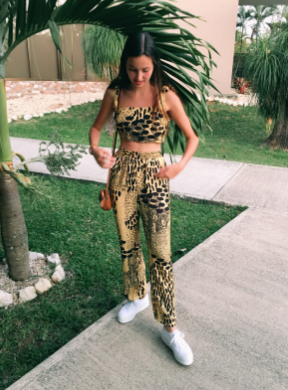 What is the most unique item in your closet?
"I got this set from ASOS a while ago and I absolutely loved it when I saw it. I knew that nobody would have it.
 The pattern was something I didn't have in my closet and it fit me really well."
Something that you're excited to wear soon?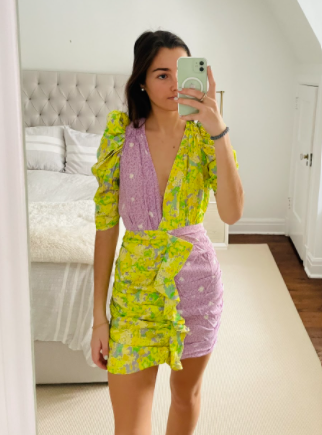 I just got this dress from For Love and Lemons. I'm obsessed with it and I can't wait to wear it soon, hopefully on spring break.
What are your favorite brands?
My favorite brands are definitely ASOS, Agolde, Zara, and Missguided. 
Who are you inspired by most? 
I love Carolyn Bessette's style. My mom showed her to me and ever since I have gone to her outfits for inspiration. She has such a simple, yet timeless look that I like to base my outfits on. 
 ——
Thank you Lillian for giving us a special look inside your closet, and providing inspiration for any students who are looking for ideas on how to spruce up their wardrobe. 
Stay tuned for next week, where I'll be featuring another stylish Scout!