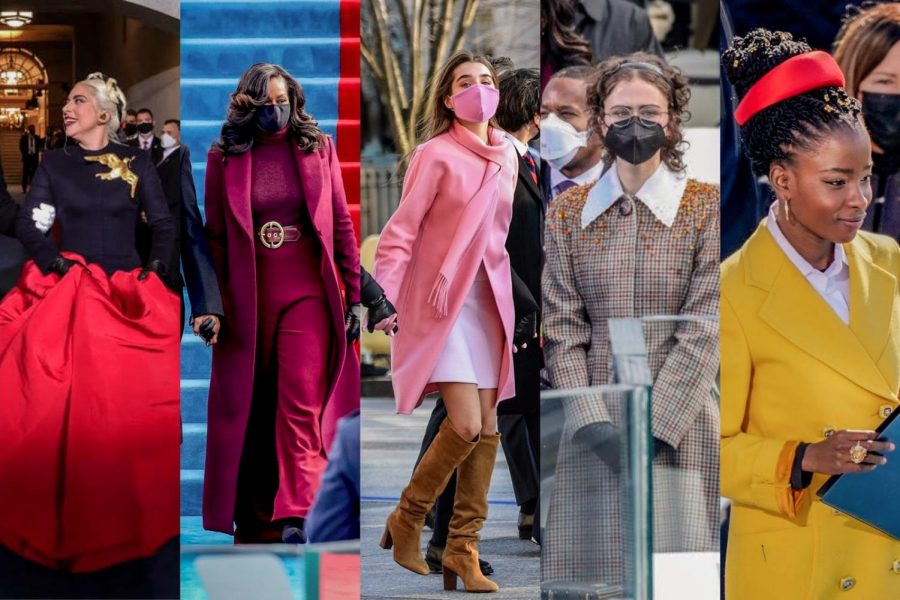 Wednesday marked the beginning of a new era as Joe Biden was sworn in as the 46th President and Kamala Harris became the first female Vice President. Not only was the day significant in US political history, but was also a big day for fashion. The bold wardrobe choices full of hues of purple, monochromatic outfits, and statement coats, looked like something straight out of a runway show. There were too many iconic fashion moments to include them all, but here the top 10, ranked. 
10: First lady Jill Biden appeared dressed in a beautiful shade of blue. She wore a matching velvet-cuffed tweed coat and dress set by American designer Alexandra O'Neill. The coat's neckline was embellished with pearls and crystals. 
9: For her performance of "This Land is Your Land" and "America the Beautiful," Jennifer Lopez appeared in all white, a symbolic color of the Suffragette Movement. She wore a tweed Chanel coat over a silk blouse and sequin wide-leg pants. She accessorized with Chanel bracelets, earrings, and a belt. 
8: We can expect nothing less from Lady Gaga herself than to stand out in her outfit. As she sang the National Anthem, Gaga wore a show-stopping custom Schiaparelli haute couture dress. Designed by Daniel Roseberry, the form-fitting navy jacket, a dove of peace brooch, and voluminous red silk skirt was a major win.
7: Not only did Amanda Gorman, the youngest inaugural poet in US history, deliver a beautiful poem, but she also delivered with her outfit. Gorman chose a sunshine yellow coat by designer Miuccia Prada which she told Vogue was a nod to first lady Jill Biden. 
6: Kamala Harris made history in style. Throughout the day, Harris showcased multiple young Black independent designers. This particular look—a stunning bright purple (another symbolic color of the Suffragette Movement) coat and dress—was designed by Christopher John Rogers and paired with her signature pearls. 
5: Former first lady Michelle Obama looked powerful in another shade of purple. She coordinated a burgundy colored turtleneck and coat with wide trousers and a large gold buckle. Each piece was designed by Sergio Hudson. 
4: Ella Emhoff stood out in her unique, high fashion beige plaid Miu Miu Shetland Pied de Poule coat with embellished shoulders and a statement collar. As a textile-design student and New York City's Parsons School of Design, Emhoff seems to be a style icon in the making.
3: The Biden grandchildren did not disappoint. Naomi Biden, the eldest, continued the monochromatic theme with her chic, neutral-colored outfit. She wore a powerful white suit, again symbolic of the Suffragette Movement, by American designer Adam Lippes.
2: Finnegan Biden served us with a mature and stylish look. Once again following the monochromatic trend, she dressed in a stunning Brandon Maxwell floor-length camel brown coat over a matching dress and accessorized with gloves. Maisy Biden (left), walking through DC in Nike Air Jordan high-tops with blue trim, deserves an honorable mention. 
1: Did Natalie Biden just single-handedly make bubblegum pink a trend? We'll have to see. She, like Jill Biden and Kamala Harris, chose to support an American independent brand. Paired with slouchy suede knee-high boots with a block heel, the 16-year-old granddaughter of Joe Biden rocked a custom Lafayette 148 New York coat with a coordinating scarf and facemask. Iconic. 
Honorable Mention: And of course, we could not discuss inaugural fashion without giving a shout out to Senator Bernie Sanders and his mittens. They are made from repurposed wool and lined with fleece made from recycled plastic.