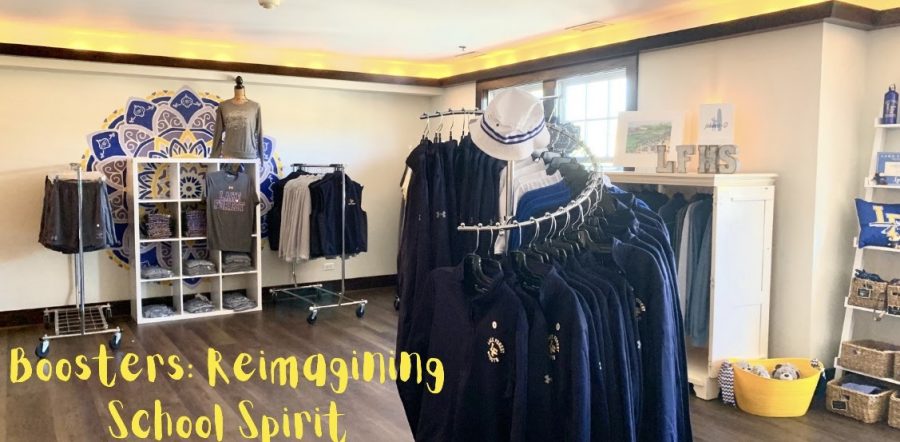 On the second floor of a Scranton Ave. complex, nuzzled between Bluffington's and Inovasi, resides the new and reimagined LFHS Boosters Spirit Store. 
After being told that she couldn't operate the store inside the alcove of the school's main entrance, Alyson Dueringer and the rest of the Boosters Committee had to get creative.
"We had about a week to find a new location," Dueringer said. "But I must say, we got incredibly lucky with this one."
The space, complete with a relaxing lounge area and blue and gold flower murals, used to house Blue Sun Yoga and Meditation, who had to relocate during the peak of COVID-19 cases in April. The committee lucked out in securing the space, as its zen aesthetic seemingly lends itself to a pleasant shopping atmosphere.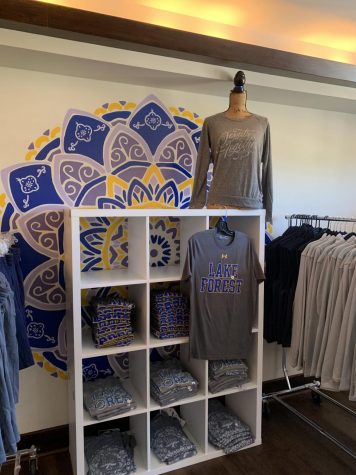 "[The relocation] makes sense; they needed the space at the school," Dueringer said of the store's former space, which sat adjacent to the front office, sequestered in the entryway to the foyer. "That space is the only place you can walk in and out of without needing to go inside. I totally understand why we had to sacrifice it, but we're hoping to make the best of our current studio and return in the fall of 2021."
But the Boosters Committee hasn't just relocated the store this fall. In an effort to ignite school unity, they re-released the 'Scouts Together' clothing line, complete with sweatshirts, t-shirts, and several tie-dye designs.  
The concept was a smash hit among members of the LFHS community, eager to show support for their school during an unprecedented time of separation. According to Dueringer, over 150 orders were delivered to the doorsteps of families across Lake Forest, Lake Bluff, and Knollwood. 
"We really felt that the line complemented this idea that 'everyone is in this together'," she said. "Hopefully that principle will continue to ring true, even now with school finally starting again."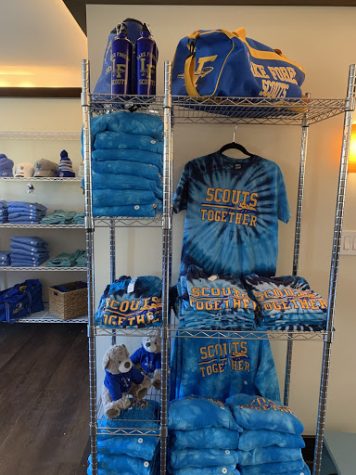 The committee also hopes to bring back fond memories of Friday Night Lights through their "Pink Out" initiative. In partnership with North Shore Medical Group, Boosters hopes to shed light on a critical issue while also continuing a cherished tradition.
"I have two kids that graduated already, and both of them got rid of a lot of Lake Forest T-shirts over time, but they, along with everyone else, seem to love those Pink Out shirts," Dueringer said. "We wanted to recognize the Breast Cancer Awareness Month and generate a sense of community with those shirts. There won't necessarily be any sporting event around it, but there's definitely value in keeping that tradition alive."
Dueringer, along with the rest of the mothers aboard the Boosters bandwagon, remains hopeful that visitors will stop by the relocated store. With plans to begin a 'Wednesday Lunch Bunch' promotion with nearby Bluffington's, the store's new location may yield a bigger clientele than ever before.
"We hope to expand our hours in order to make this place more accessible to students," she said. "We still want you to show your LFHS Spirit in those Google Meets."
The Booster Store is open from 11-4 p.m. on Wednesdays and 10-2 p.m. on Fridays. If you would like to place an over for contactless delivery, call 636-399-4766