Outfit of the Week featuring Ella Witmer
For this week's OOTW, we have senior Ella Witmer.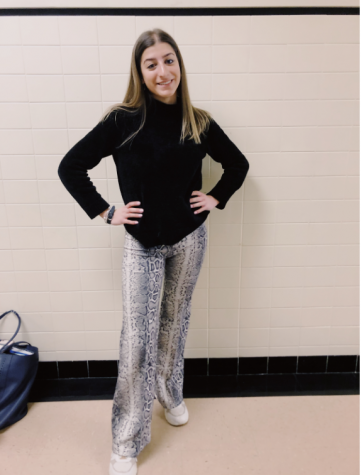 Ella is rocking snakeskin flare pants from Bershka, which are the perfect mix of the flare pants and the newest snakeskin trend. She paired it with a simple black sweater from Nordstrom, which is a perfect medium for her patterned pants.
Her shoes are from Zara, which perfectly tie her whole look together.
This look is so fun for the winter months as it not only fits the weather, but puts a trendy twist on the classic jeans and sweater outfit. Ella did an amazing job putting this fashionable look together, and we can't wait to see more of her style throughout our halls.
Where do you find your outfit inspiration?
"I look at runway trends and bloggers such as @wewhatwear and @manrepeller because they cover a variety of people making them fun to read."
Where are your favorite stores to shop and why?
"I go to Zara for trendy stuff because they are always very up to date on current trends, Reformation for basics, and definitely Alo Yoga for workout and athleisure. For jeans, I really like Levi's."
What is one trend you love and one trend you hate and why?
"Even if the 2000s are back, low rise jeans should not be a part of that. I love matching sets though because they're an easy and cute look."
Stay tuned for next OOTW!