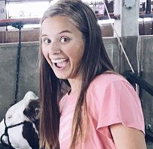 Junior Anna Seyfert makes life look easy, but a lot of hard work goes into it.
Seyfert is heavily involved with CROYA, appearing at almost every weekday meeting, as she is a member of the executive committee. Seyfert was also a part of the girl's volleyball team this fall, adding to her list of extracurricular activities.
In the classroom, Seyfert takes on challenging classes, including two AP classes.
However, her friends are most impressed with her positive attitude.
"She is such a good friend and is always working hard at whatever comes her way," Junior Tess Ivanjack said. "She is always a very positive person, and is so kind no matter what."
Junior Annie Kelly says Anna can be counted on "to always be there for you."
"Anna has been one of my best friends since forever and is always a happy and positive person," Kelly said.
Her boyfriend junior Zach Porter said she's a "very dependable friend and confident."
"She is a great person to go to for support or advice.  She's also very cute."