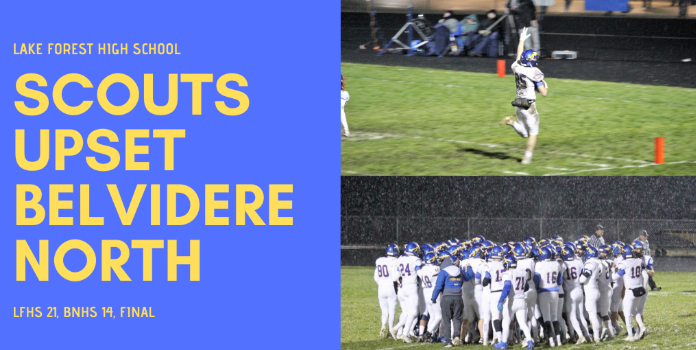 Graphic by Connor Clark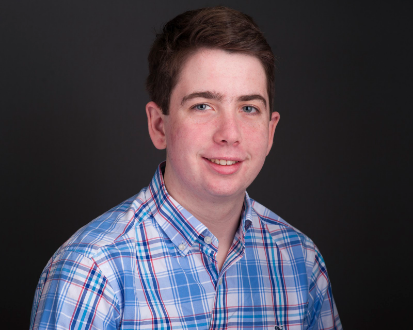 On a snowy night in Belvidere, Illinois, the Lake Forest Scouts found themselves down by more than two scores at halftime for the second straight week. Three-seeded Belvidere North came to play in the first half of Friday's first-round IHSA playoff game, and used home-field advantage to only boost their success.
Despite the deficit, there were no heads hanging in the locker room after the first half. Everyone still believed they could win the game, especially after the magical comeback the Scouts pulled against Stevenson the week before. 
The Blue Thunder was a run-heavy team, running the triple option play as their main offensive threat. On the first drive of the game, Belvidere North did what they do best: they ran the football, took a big chunk of time off of the clock, and scored.
After a six-minute drive, the Blue Thunder found themselves up 7-0, and added seven more shortly after, when they recovered a muffed Lake Forest punt inside the 15-yard line. 
The Scouts defense caught on to the Belvidere North offensive scheme, but the offense came up empty-handed in the first half, heading to the locker room trailing 14-0.
The mood in the locker room was determined. No one was ready to just back down and give up with a half of play left. This team knew that they had the capability of winning this game despite the seeding, the record, and the road game atmosphere. The Scouts were determined to leave with the win. As the Scouts took the field for warm-ups, you could feel the confidence the team possessed, and the large road contingent of parents and students that made the trip certainly helped. 
The Lake Forest offense came up empty in their first drive, but made progress advancing the ball quite well. The defense continued to do their thing and junior defensive back Jack Halloran came to play with a number of huge open field tackles.
From then on, the offense began to find its stride, with Hoskins being able to throw the ball very effectively. This included a 75-yard touchdown strike to senior Connor Milliman to give the Scouts the lead late in the fourth quarter. Jahari Scott was able to evade tackles for loss as well continuing his stellar, over 1,000 yard sophomore season, and Mac Uihlein found the endzone for the fourth time in two games from three yards out.
The Scouts have come from behind once again, but going forward, the game plan is to put that kind of second-half performance into all four quarters. If the Scouts can do that they'll be a very hard team to beat.
Next Game: LFHS vs. Kaneland (Maple Park), 7:30 p.m. @ Varsity Field, LFHS West Campus

Scouts Record: (6-4) NSC (4-3)