Worried about the college application process?
Hang on for a minute...we're trying to find some more stories you might like.
"Do you know where you want to go? Where are you applying? Have you finished your essay yet?"
If you've faced these questions recently, you're probably a senior, and you're probably going through the brutal process we call "college apps."
In a recent survey of 100 seniors at LFHS,  students gave an update on their current status in the application process. The results can help you see exactly where you stand in comparison to the rest of your peers.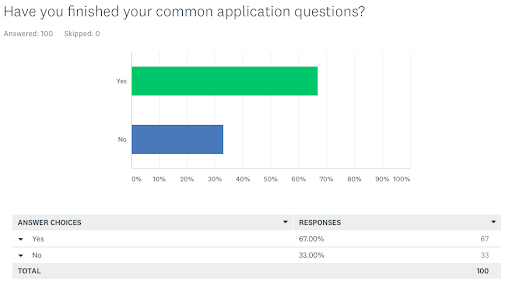 Analysis: 67% of survey respondents said that they've finished the Common Application questions. Although it feels like you're trudging through the questions, they're good to just get out of the way if you're bored in study hall or on a weekend. You'll be happy you did them when you're that much closer to being done with your apps.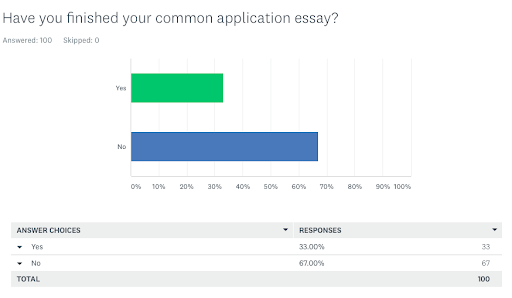 Analysis: The Common App essay takes a little longer, so these results seem realistic and understandable. Although 2/3 of the class haven't finished their essay, a good amount have probably started. You definitely need more time to set aside for this step in the process, it'll be read admission officers and is a crucial part of your application.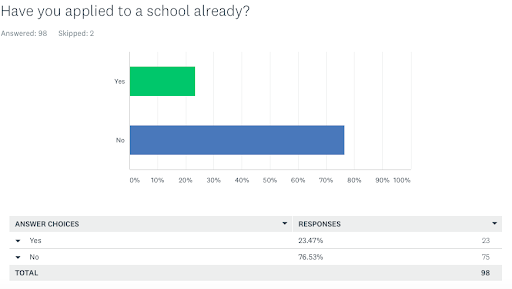 Analysis: It is completely fine to be part of the blue bar at this point in the year. Rolling admission and early decision are offered by many colleges, and are currently open for applicants at this time. If this isn't something that interests you, you have months before you have to apply regular decision.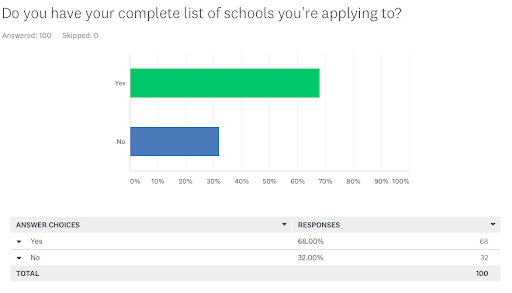 Analysis: If you're like a lot of the seniors at LFHS, you've been adding and subtracting schools from your list weekly. Although the survey shows that more people have their complete and final list of schools they're applying to, 32% are still deciding. If you are certain about a school, work on that application first, and let the uncertainties come later.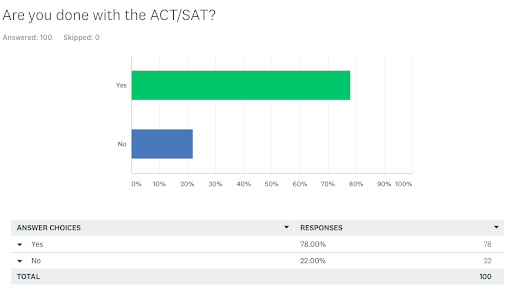 Analysis: Surprisingly, some are still wrapping up with standardized testing (although many of the seniors that answered no most likely took the September test as their last ACT). Nonetheless, like the persistent Lake Forest High School students we are, it makes sense that some of us are still trying to top our last score. However, the last ACT for seniors is given in December, so last minute opportunities are coming to a close.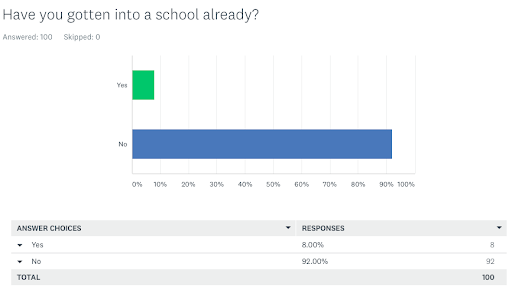 Analysis: Only eight out of the 100 survey respondents have gotten into a college thus far. These students are probably either committed athletes or rolling admission applicants. If you're part of the other 92%, you have little to worry about.
Analysis: Again, this graph shows just how little you should be worried at this point about getting into college. Only 7 out of 100 students that responded are committed. These responses are most likely coming from committed athletes, like previously mentioned.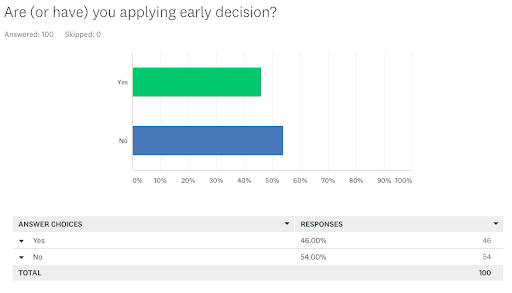 Analysis: The survey responses to this question show a pretty even split. You'd think most people in the senior class had a dream school they'd attend in an instant if they got in, but that doesn't seem evident here. Some people know exactly what they want, and others want options (and that's okay!)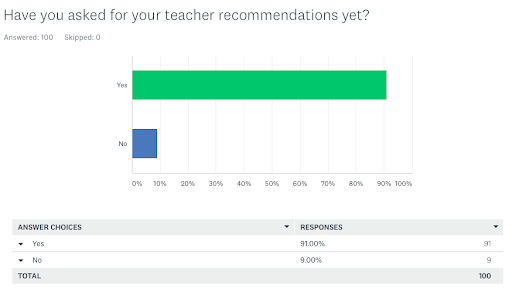 Analysis: It is expected that seniors have asked teachers for recs, because they need time to write them and plan out their schedule. Teacher recommendations should be piling in soon for the most part, especially if you're applying early action or early decision. Make sure you've asked two teachers for a rec soon and request them through Naviance!
Analysis: The survey results are expected: this is an important part of a big transition in senior students' lives! If you feel stressed about applications, you're not the only one. Try to make a calendar to plan out your process and you will be more than fine.
About the Writer
Caroline Allard, Staff Writer
Caroline Allard is a senior at Lake Forest High School. She spends most of her time practicing with the Varsity Dance Team. Her favorite subject is business,...