NFL Week 2 Preview: Will the Saints avenge themselves in an NFC Championship rematch?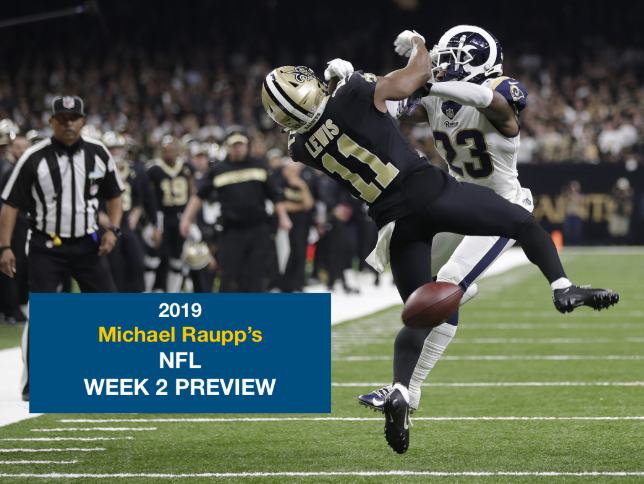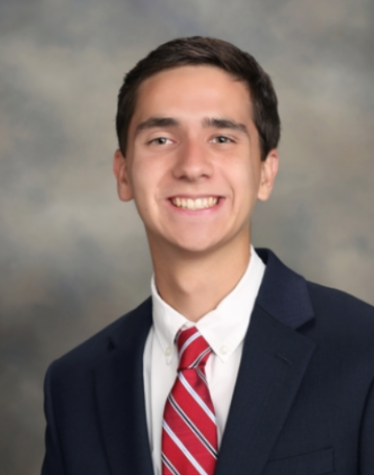 My Week 1 Record: 9-6-1
It's far too early to make assumptions on the remainder of the NFL season based on the first weekend, but teams and individual players made their first impressions that can be real indications of what is to come.
The Browns failed to deliver after an eventful off-season and Lamar Jackson lit up the Dolphins. Yes, Miami stinks, but Lamar's arm looked far stronger and accurate. Chiefs' Patrick Mahomes is still his MVP self and the Cowboys seem like a real threat to dethrone the Rams as the NFC's top team down the road come the NFC Championship
About the NFC Championship. The Rams and Saints meet for the first time since that that game last year. Of course the notorious no-call (pictured above) is the main talking point, yet both teams remain near the top of the NFC this season and this game could be a preview for an NFC Championship rematch come January. 
In addition to that game, dual-threat quarterbacks Kyler Murray and Lamar Jackson face for the first time and expect many highlights to come during that one.
Finally, last night on Thursday Night Football, Tampa Bay's defensive stand on 4th-and-1 at their own two yard-line sealed the deal for their first victory of the season, Bruce Arians' first as a Buccaneer. 
Here are my picks for the remaining 15 games this weekend. 
Seattle Seahawks (1-0) @ Pittsburgh Steelers (0-1)
Sunday, Noon (FOX)
Although the Seahawks won Sunday against the Cincinnati Bengals, their post-Legion of Boom secondary was shredded in the process, giving up 18 first downs through the air. Meanwhile, up front, their radically different and improved defensive line made clear the addition of Javedon Clowney would only make their defensive front even more formidable. 
Steelers' Ben Roethlisberger's season started in the most unimaginable fashion after an utter embarrassment on Sunday Night Football to the defending champion New England Patriots in Foxborough. Despite all of that, the team has a chance to redeem themselves at home against a secondary nowhere near the level of New England's.
Ben finds a way to deliver and just edge Russell Wilson and the Seahawks. 
My Pick: Steelers 31, Seahawks 27
Dallas Cowboys (1-0) @ Washington Redskins (0-1)
Sunday, Noon (FOX)
As put forward in last week's preview, Washington did in fact give their divisional foe Philadelphia Eagles a scare, but fell just short 32-27. Former Ohio State standout and third rounder Terry McLaurin opened eyes in his pro debut, but the team is now without running back Derrius Guice for possibly the entirety of the season after undergoing surgery for a torn meniscus. Just like last season when Guice was lost for the season due to injury, the team will once again turn to Adrian Peterson; he was a healthy scratch last week and now gets the chance to prove he can still make an impact near the end of his illustrious career. 
Cowboys' Dak Prescott looked more than ready in Week 1, indicating there is more to come for what appeared to be a figured out passing attack. Second year receiver Michael Gallup and former longtime Packer Randall Cobb were huge boosts for Prescott, and Ezekiel Elliott's usage in the backfield will only continue to increase in the coming weeks. 
With all signs pointing up, the Cowboys roll in Week 2.
My Pick: Cowboys 35, Redskins 21
Minnesota Vikings (1-0) @ Green Bay Packers (1-0)
Sunday, Noon (FOX)
All around, the Packers' new-look defense was the major takeaway in a low scoring affair to open the season in Chicago, but the team will be put to test again this week. On the other side, the Vikings' defense had the same level of success, if not more, causing three turnovers and a blocked point against Atlanta. 
With the success of the defense, Kirk Cousins only had to throw ten passes in their 28-12 victory. A healthy Dalvin Cook makes Cousins' job even easier as the team no longer needs to put the game in his hands. Unless Aaron Rodgers elevates his game profoundly from last week, the Vikings have too much fire power to lose.
Minnesota will outplay Green Bay and steal one in a hostile territory. Look for Dalvin Cook and Adam Thielen be fed early and often.
My Pick: Vikings 28, Packers 20
Arizona Cardinals (0-0-1) @ Baltimore Ravens (1-0)
Sunday, Noon (FOX)
Both quarterbacks in this one shined in their season debuts. For Arizona, their first overall selection, Kyler Murray, made his debut and led his team from a double digit deficit to force overtime. On the other hand, well… Lamar Jackson had himself a day.
Jackson played against the lousy Miami Dolphins, but throwing for over 300 yards and five touchdowns is impressive against any team in the National Football League. Kyler will impress once again, yet Lamar will be too much for Arizona's defense to handle. 
My Pick: Ravens 31, Cardinals 23
New England Patriots (1-0) @ Miami Dolphins (0-1)
Sunday, Noon (CBS)
In an absolute thrashing of the Pittsburgh Steelers on the night the Patriots unveiled their sixth Super Bowl banner, there is every reason to expect the same domination continues this week. 
The Dolphins made clear their season is a wash after the trade for offensive tackle Laremy Tunsil and receiver Kenny Stills from Houston prior to the season's first game and gave up 59 points last week to make matters worse. 
Tom Brady effortlessly picked his way through Pittsburgh's defense and the sudden addition of All-Pro Antonio Brown gives one of the league's top offenses another weapon to play with… assuming he plays; now with assault allegations against him, Antonio Brown saga continues. 
With or without him, the Patriots will have no trouble starting the season 2-0.
My Pick: Patriots 42, Dolphins 17
Buffalo Bills (1-0) @ New York Giants (0-1)
Sunday, Noon (CBS)
Outside of Saquon Barkley and Evan Engram, the Giants put up little resistance in Dallas to open the season. Meanwhile, Buffalo put together a comeback victory through the fortitude of their defense and the timely throws from their gun-slinger quarterback.
Although Bills' Josh Allen found a way against the Jets, he needs to make better decisions in this one. The Giants listless secondary presents the opportunity to find his stride and there is little doubt, if any, that he won't.
My Pick: Bills 23, Giants 14
Jacksonville Jaguars (0-1) @ Houston Texans (0-1)
Sunday, Noon (CBS)
Both teams lost in the first week of the regular season, but Houston and Jacksonville are headed in opposite directions. Not only did the Jaguars defense allow 40 points to Kansas City at home, but also lost Nick Foles — who was supposed to finally be the answer at quarterback — for most of the regular season due to a broken clavicle bone. 
For the Texans, despite the last drive disaster that allowed New Orleans to kick a game winning field goal on Monday Night Football, the team has a chance to forget all of that with a victory. Houston wins, but they must start protecting Deshuan Watson; despite sacrificing a first rounder for Laremy Tunsil, the team still allowed six sacks. That needs to change fast if they want their quarterback on the field. 
My Pick: Texans 31, Jaguars 20
Indianapolis Colts (0-1) @ Tennessee Titans (1-0)
Sunday, Noon (CBS)
Even though one team lost and the other won last week, both the Colts and Titans made statements. In his first start since Andrew Luck prematurely announcing his retirement, Jacoby Brissett threw two touchdowns, zero interceptions, and helped his team force overtime against the Los Angeles Chargers. 
On the other side, the Titans completely caught the football world off-guard by defeating a much anticipated Cleveland Browns squad. Will they play the same this week, most likely no, but that does not mean they will not win. Tennessee survives a close one and uses their newfound confidence to do so. 
My Pick: Titans 24, Colts 20
San Francisco 49ers (1-0) @ Cincinnati Bengals (0-1)
Sunday, Noon (FOX)
An impressive display of defense by San Francisco outlasted Jimmy Garoppolo's struggles on the other side of the ball. Meanwhile, Bengals' Andy Dalton surprisingly threw for over 400 yards and gave the impression the team will spread the ball around with new head coach Zac Taylor. Even if Bengals' running back Joe Mixon does not suit up, the team will get their first victory of the season. Unless Garoppolo steps up, it is hard to see the defense carrying the Niners' load again.
My Pick: Bengals 31, 49ers 20
Los Angeles Chargers (1-0) @ Detroit Lions (0-0-1)
Sunday, Noon (FOX)
The Chargers needed overtime to fend off the Colts and this week will be no easier — not because of the talent of the opposition, but the injuries the team is dealing with. 
Tight end Hunter Henry is out for the foreseeable future, the team is concerned with receiver Mike Williams' knee, and safety Derwin James is out indefinitely.
On top of all of that, running back Melvin Gordon continues to hold out, but Austin Ekeler proved the ground game is just fine without him. The Chargers still have a talented roster despite the injures and will defeat the Lions, who blew a 17 point lead to Arizona last week.
My Pick: Chargers 28, Lions 21
Kansas City Chiefs (1-0) @ Oakland Raiders (1-0)
Sunday, 3:05 (CBS)
Though speedster Tyreek Hill will be out for 4-6 weeks with a shoulder injury, Patrick Mahomes will just continue to do his thing. Oakland stuck it to Antonio Brown on Monday Night Football with a convincing victory over Denver, but this is Patrick Mahomes… so good luck.
Chiefs prove to be too much for Oakland on the road.
My Pick: Chiefs 35, Raiders 24
New Orleans Saints (1-0) @ Los Angeles Rams (1-0)
Sunday, 3:25 (FOX)
Arguably the best game on this week's slate of games, football fans are treated with an NFC Championship rematch. 
The famous no pass interference call that most likely cost the Saints a trip to the Super Bowl is definitely in the backs of their heads, but the Rams want to prove they are the better team, regardless of that play. Cooper Kupp has a big day for the Rams to help Los Angeles improve to 2-0 on the young season.
Rams 31, Saints 27
Chicago Bears (0-1) @ Denver Broncos (0-1)
Sunday, 3:25 (FOX)
After an embarrassing performance to kick off the NFL's 100th season against Green Bay, the Bears look to get back on track in Denver. 
This seems like an easy victory on paper, but the team will face their stout defensive coordinator from last year, Vic Fangio, who now is Denver's head coach. Both coaching staffs know each other well, but the Bears' defense is too loaded for Denver to defeat. Even if the Bears win through their defense, the performance of the offense, led by Mitchell Trubisky, will be the main story-line after a dreadful start last week. 
My Pick: Bears 17, Broncos 13
Philadelphia Eagles (1-0) @ Atlanta Falcons (0-1)
Sunday, 7:20 (NBC)
After a lackluster start to the season last Sunday, Atlanta wants to start the season on a better note at home in front of the home faithful. Both teams have lethal passing attacks, so expect a shootout. Atlanta does not want to be in the dreaded 0-2 hole to start the season and Matt Ryan will do enough to outduel Carson Wentz. He will need to lead the passing attack with first round pick and right guard Chirs Lindstrom placed on injured reserve after suffering a foot injury, which will impact the effectiveness of the running game. 
My Pick: Eagles 24, Falcons 31
Cleveland Browns (0-1) @ New York Jets (0-1)
Monday, 7:15 (ESPN)
The Browns have already caught two breaks after a humiliating loss at home against Tennessee last week: Jets' starting quarterback Sam Darnold has been ruled out of this game as he battles mono and top-dollar free agent acquisition Le'veon Bell is not at full health as he needs an MRI on his shoulder. Cleveland wins this one, however, Baker Mayfield needs his offensive line to buy him time or the off-season's most hyped team will struggle, regardless of how many weapons they have.
My Pick: Browns 24, Jets 17
About the Contributor
Michael Raupp, Sports Editor
Michael Raupp returns to The Forest Scout for his senior year as a sports editor. He is a member of the boys' cross country team in the fall and track...