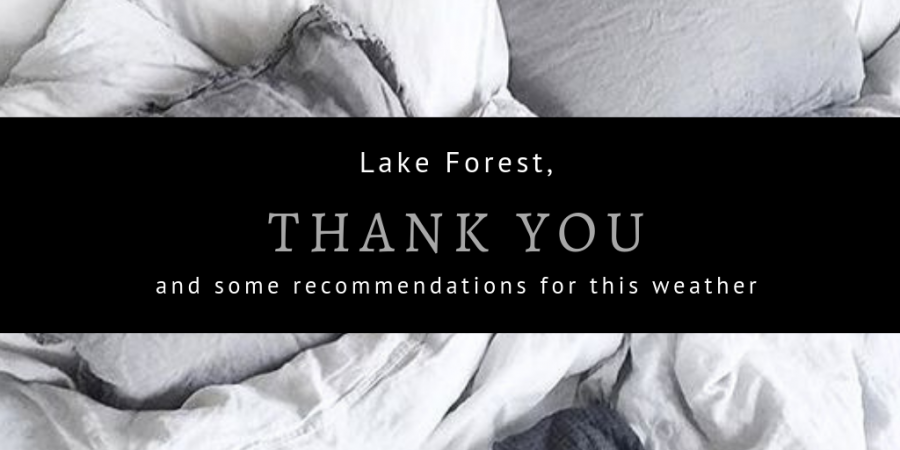 Dear Lake Forest High School,
Thank you for cancelling school yesterday! Life has been a lot lately, and I believe we all need a break from this weather and school. The snow day was very much welcomed and I found myself staying up late watching movies, sleeping in, having a nice breakfast with the fam, and took a quick trip to Starbucks but almost slid into the store. The streets were a little rough; good call on your part.
Thank you for letting the students of Lake Forest have the third week of a four day week and long weekend! The weekend was great and filled with college responses, social gatherings, movies, hot chocolate, and sledding on the warmer days when the sun was out. Truly a time to chill.
Thank you to the Scout staff who drove the LFHS vans to remote parking and gave students a little break from the brutal winds on Friday and today (Tuesday)! For people like me who park at remote, it was a blessing and saved me from the frostbite despite my hat, gloves, boots, and long jacket. You warmed my morning!
To stay warm may I suggest simply staying inside. If you must go outside, I recommend wearing snow boots or any warm boots with a thick sole and waterproof technology. Don't forget to wear thick socks such as Cabin Socks which will keep your toes warm and in fuzzy presence. A proper winter jacket and possibly a sweatshirt underneath is a must- the goal is to keep your core warm! Lastly, the hat and gloves! Skip the 'tech' gloves this time and go for the thick snow gloves and wool hat.
For dinner try some comfort food: soup, grilled cheese, chicken pot pie, pasta, mac and cheese, etc., anything that is perfect for a home night. Find foods that are warm and will support your immune system as well as keep you comfy are ideal!
Overall, try to stay inside as Chicago news weather teams have mentioned getting frostbite in five minutes or less!
Stay warm and safe Lake Forest,
The girl watching Netflix with a million blankets