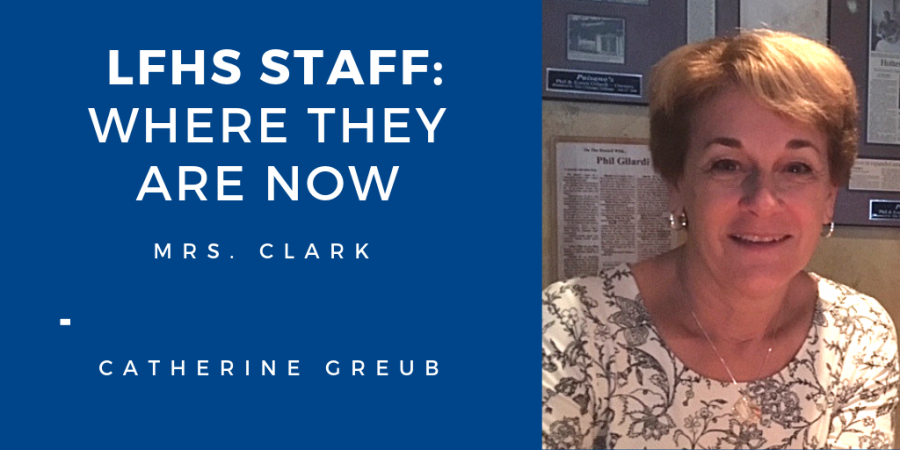 As many amazing students walk through the doors of Lake Forest High School each year, it's the teachers and staff who help them get through these challenging four years. Many "Lake Forest Staples" of teachers and staff have become very well known and a common name over the course of many years. When these teachers eventually leave, they leave all their positive impacts behind and their memory lives on. During this article, we will dig deeper and find out what influential English teacher, Mrs. Diane Clark, is up to these days.
How is retirement?
While Mrs. Clark loved being an English teacher at Lake Forest she says "retirement has taken me from a long-loved career that I enjoyed for many years with wonderful students who've become dear friends." She mentioned that she "miss(es) the daily contact with them, their bright curiosity and senses of humor, as well as the fun and interplay of ideas the classroom brings, but retirement has also brought some delightful new opportunities and perspectives to my life."
What are you up to now?
"Since leaving teaching, I've been fortunate to do a lot of traveling, both within the United States and abroad to Spain, the  Riviera, Guatemala, Panama, and, especially, India. Travel teaches so much, and I look forward to more adventures. In fact, South Africa is next on my bucket list." Sounds really cool, Mrs. Clark! In addition, Mrs. Clark said that "one of the greatest blessings of (her) my retired life is having time to be with (her) my grandchildren." In fact, they live nearby so she gets to spend lots of time with them and enjoys every minute! "Watching them learn and grow is a gift," she added.
Have you picked up any new hobbies?
Mrs. Clark mentioned that she's always "been somewhat outdoorsy." She enjoyed "being able to spend long hours on the golf course or kayaking, swimming and sunning at (her) my lake house is a real treat." She joked and said that if you "add a grandchild or two to that scene, and it becomes magic."  But no surprise, she still loves reading! Mrs. Clark claims to be an "addicted reader!"
What are your hopes or recommendations for LFHS?
"There are so many outstanding opportunities for students at the high school, not only academically but also in terms of personal growth.  I hope the academic pressure doesn't become so overwhelming that chances to grow outside of textbooks and classrooms are diminished simply because there's no time to indulge in them."
Any club/school advice?
"I, in partnership with Mrs. Forst, sponsored Young Idea for quite a few years.  Those were special hours spent with dedicated, talented kids who were intent on producing a beautiful magazine as well as having a good time along the way.  I hope that sense of enjoyment and purpose continues within the Young Idea staff as well as within the other school publications–such as The Forest Scout! From all I've heard, that hope has already been realized."
Anything else you want your students to know?
As you can tell from what I've said, extra time is key to many of the rewards retirement brings.  It doesn't replace the connection to LF students however, or engaging with challenging ideas and issues, things I can't help but miss. But I wish you all well in your journey through an amazing high school career.  Just don't forget to have fun along the way.
Other takeaways:
Mrs. Clark has contributed a lot at Lake Forest and her legacy will continue here!
Although I may have dropped the ball on processing this article, Mrs. Clark has a big heart and understands when conflicts come up and time slips away, a trait students love their teachers to have! (Thank you, Mrs. Clark!)
Overall, it was amazing to connect and talk to Mrs. Clark. She was a honor to talk to, especially since I have heard such great things from teachers and previous students. Mrs. Clark is amazing and has a very kind heart! Although the essays might have been long, but having her as a teacher must have been awesome!  Lake Forest wishes you all the best, Mrs. Clark! Don't ever be shy to come back for a visit! Your colleagues and students miss you dearly!