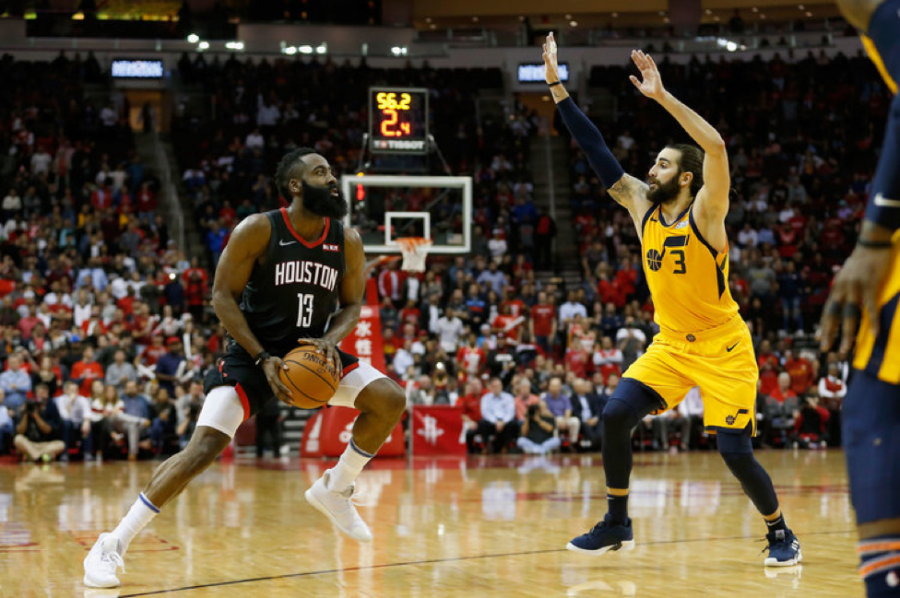 James Harden posted a season high on Monday night, scoring 57 points at home against the Memphis Grizzlies. He shot 17-33 overall, 6-15 from three point range, and an impressive 17-18 from the free throw line. This marked Harden's third game over 50 points and his 17th consecutive game with 30 or more points. Doing this led him to break the record for most consecutive games scoring 30 or more points since the NBA merger (1976). Kobe Bryant previously held the record at 16 games, with Tracy McGrady behind him at 14 games. Soon after that game, he extended his record to 18 games, and beating his season high set just two days earlier, dropping 58 points in a loss to the Nets.  During his streak, he is averaging 42.2 points with four 50 point outings. Harden's dominance has been unmatched this season.
This achievement adds to an already impressive season for the reigning MVP. Harden has carried the Rockets to fourth in the West without key playmakers and shooters, Chris Paul, Clint Capela, and Eric Gordon who have missed multiple games due to injuries. He has had to take on bigger scoring roles with each injury. Harden is averaging 34.8 points per game, 6.3 rebounds, and 8.6 assists. He is an early candidate for MVP, but still people criticize his play- mainly, the style of play he brings every night.
The common argument against Harden is that he travels constantly and draws too many fouls. Fans of the NBA will complain almost every time he takes a step back jumper or drives through the lane to Euro step through a big. People throw their hands up at games every time he gets a whistle blown while shooting behind the three point arc. Harden supporters will argue that he is creating a whole new way to play the game. He is a master at getting to the free throw line, averaging over 10 attempts a game.
Houston's offense consists mainly of watching Harden go to work at the top of the key. Harden averages the most isolation plays a game, at around 17 per game. That is seven more than Demar DeRozan who holds the number two spot. Harden leads this category by such a large span for good reason. The style of play has led the Rockets to be a top contender in the West. Whether or not Harden will pull up from deep or drive to the hoop and dish the ball, he is always at the center of the offense. This has also led to criticism as he is hated for shooting too much.
Harden is an anomaly to three point shooters across the league. Over 80 percent of threes involve an assist; however, only 15 percent of Harden's threes come from assists. Last year he broke the NBA record with 196 unassisted threes. This year he is currently on pace to destroy that record with 325 by season's end. In fact, over the last two games (scoring 57 and 58 points respectively), none of his points came from assists.
Whether you like Harden's style of play or not, there is no denying his dominance this year. He has willed his team into a top spot, and he can score the ball whenever he wants. To criticize his game at this point is only mocking the NBA rulings and officiating. Harden is simply taking advantage of the system. As we continue to watch him play, we must keep in mind that Harden may be starting a revolution with young players modeling their game after his. James Harden is just the first superstar to establish this type of play. As the game evolves, he evolves with it.