Megan Szostak is a freshman at Tufts University in Boston, where she studies International Relations, French, and Music. She graduated from LFHS in 2018, and was an important and loved member of the orchestra program, where she played the viola. Here is what she, Orchestra Director Mr. Robert Bassill, and her friends and fellow musicians had to say about her time in LFHS' music program.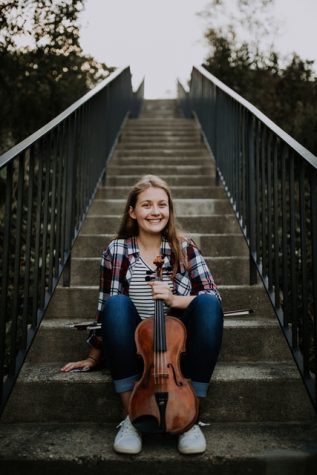 Picture by Eric Decker
What was your experience like playing for the LFHS orchestra?
"Being a part of the LFHS Symphony throughout my four years in high school is something for which I'll always be grateful. It is such an excellent and supportive community, and the friendships I formed through orchestra have been lasting.  The repertoire we had during my four years was excellent, and it concluded with my getting to play the Hoffmeister Viola Concerto with the symphony, which is something that I'll never forget." – Megan
Were you involved in any other music groups besides school orchestra?
"I was. I was part of the Midwest Young Artists Conservatory (MYAC) Symphony Orchestra as well as a member of a string quartet at MYAC. I also participated in the pit orchestra for two years at LFHS and was onstage in the spring musical for the other two years." – Megan
How has your experience in orchestra in college compared to your experience at LFHS?
"I am really lucky to be a part of the Tufts Symphony Orchestra as well as the Tufts Chamber Orchestra, both of which are under the direction of Professor John Page. Prof. Page is an incredible conductor and such a genuine person, and I am really looking forward to working with him during my time at Tufts. It is definitely a different dynamic than the LFHS symphony orchestra, with both Tufts Orchestras having much more formal rehearsals than LFHS orchestra. This isn't a bad thing, just a difference I've noticed. So many of the musicians here are also such classical music nerds (like myself), so it's great to connect with people over this shared interest." – Megan
Do you have a favorite fun memory or story from LFHS orchestra?
"This is such a difficult question and there are so many to choose from, but one of my favorites has to be from a few years ago when symphony was rehearsing in the RMA for an upcoming concert. As we were tuning, someone noticed a bug flying around (that was later determined to be a bee) and everyone in the violin section started freaking out and waving their bows at it. Mr. Bassill came to the rescue and, with a massive score of what I think was Beethoven's 7th, he proceeded to heroically and brutally annihilate the bee while the entire orchestra remained in their seats and watched. Once the bee was no longer a threat, everyone began cheering and thanking Mr. Bassill profusely for his act. It was such an iconic moment in my LFHS orchestra career." – Megan
____________________________________________________________________________
How long have you known Megan, and how do you know her?
"I've known Megan for over a year, and we both played viola in symphony orchestra together and we also did the musical together." – Sydney Rubenstein, sophomore
"I've known Megan for about five years, and I met her in DPM's Chamber Orchestra. We became close friends after getting to know each other through Math Analysis Honors and LFHS Symphony Orchestra." – Kimie Han, senior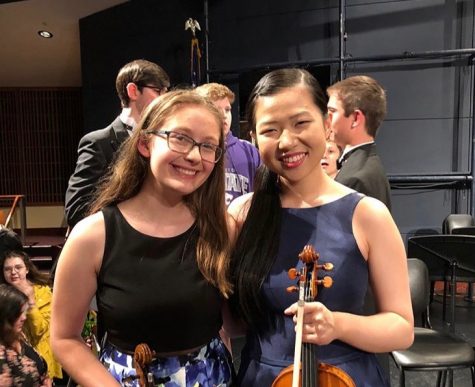 "I have known Megan since my freshman year in high school, and I met her because of school orchestra. She was really kind right off the bat, and helped my sister Grace and I get used to high school. I'm not sure how to describe it, but she's kind of like the older sister that we don't actually have." – Jane Mockus, junior
"I've known Megan since freshman year of high school, through orchestra, but I really got to know her sophomore year, when we were both in MYA Symphony Orchestra together and I spent a lot of time talking to her on Saturdays." – Grace Mockus, junior
What is your favorite fun/funny memory about Megan in orchestra?
"There are so many to choose from! I'd say my favorite memory with Megan in orchestra was in the Spring last year. We were playing a song that we both didn't like, so Megan and I would kind of mess around when we rehearsed that song. We would try to play the song only with 1st finger, or we would do it in all up bows for example and see if we could actually make it sound good." – Sydney
"The funniest memory I have with Megan is when we played together in the Mark Wood concert. To this day, we still laugh about our experience working with the legendary Mark Wood and his five string instruments." – Kimie
"My favorite memory was in our first concert of our first season at MYA (last year) at Northwestern's Pick-Staiger hall, and we had about 45 minutes before we had to play. So Megan, Grace, our friend Suzie, and I all went for a walk along the lake as the sun was setting, and when we got back to the hall, Megan airdropped a zoomed-in picture of Thomas the Tank Engine to all of the audience. Another memory was when we had an MYA concert one Thursday morning at Ravinia for a bunch of schoolchildren. When driving us back to school, Megan drove onto the highway and screamed the entire time because she hadn't wanted to go on the highway but had taken a wrong turn." – Jane
"Megan studiously drawing Mrs. Kessler or Kimie on her music is one of my favorites. She liked to draw and write in her part." – Grace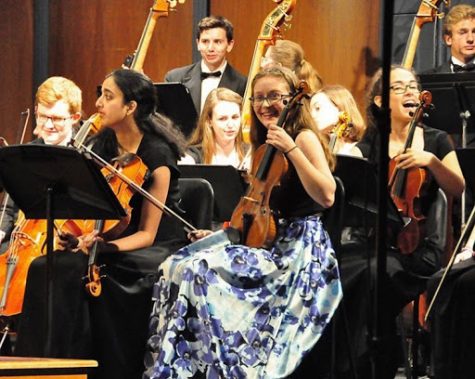 How was Megan a positive influence on the orchestra program at LFHS?
"Megan would always come into orchestra extremely upbeat and happy, and she was always there for anyone. No matter what instrument you played, she would make an effort to talk and become friends with anyone." – Sydney
"Megan lead the viola section with grace and confidence, and was always willing to lend a helping hand to her fellow students. She shaped the orchestra with her enthusiasm and knowledge for classical music, and really encouraged all of us to be the best musicians/people that we could be." – Kimie
"She was a talented musician and composer and, collaborating with a few others, wrote the music for this year's musical, and my freshman year musical Urinetown. Her skilled viola-playing pushed us all to improve as well, and her knowledge of music and its history was useful information for the pieces we played. Outside of the orchestra program she even participated in the musical! So much music! She was such an integral part of orchestra that during pit season last year, Bassill said, 'What will I do without Megan Szostak? Die, probably.'" – Jane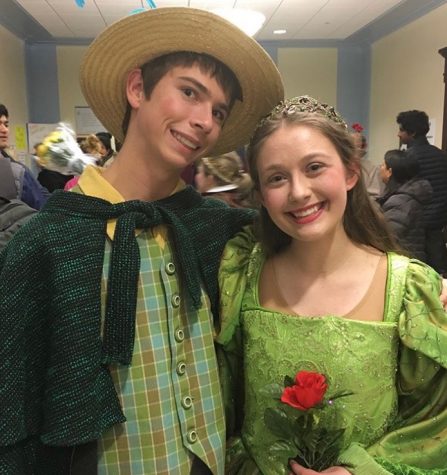 "Megan is a fantastic role model– she is always prepared, motivated, and attentive in class as well as kind and funny and welcoming. She always tries her best to do things well, whether it was writing out the parts for Urinetown or performing in an Honors recital. She is a great person to look up to." – Grace
How do you think most people (particularly in orchestra) saw Megan as a person and as a musician?
"I think people in orchestra saw her as an amazing person and musician. Once again, she was always so nice and caring to everyone, and her musicianship was, and still is incredible." – Sydney
"I think Megan really was loved by all. Her humor, kindness, and dedication to music was inspiring to everyone in orchestra. And though she could be quiet at times, she filled the halls of LFHS with her positivity." – Kimie
"Everyone saw Megan as a friend, and also a great section leader. She's always talkative and always cheerful, no matter what, so spending time in orchestra with her made everyone happy. The viola section with her as section leader was loud and confident and truly a squad– for the Halloween concert they all had a section costume and went as the Pink Ladies, which was a level of unity that the other sections didn't have. Overall I think everyone appreciated Megan regardless of whether or not they knew her super well." – Jane
"I personally see her as a fantastic role model as both a person and a musician, and I am sure everyone else felt the same way. There is literally no way you can dislike Megan– she is always so happy and kind and always puts in her best effort to make something better. She's a fantastic musician as well, which was shown in her brilliant viola recitals and her willingness to help people in school and in YMS, which stands for Young Music Scholars– Megan was a tutor to help kids learn music at MYA." – Grace
What are 3 words you would use to describe Megan?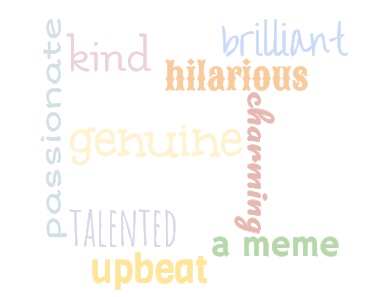 ____________________________________________________________________________
How long have you know Megan for, and how/when did she begin orchestra?
"I've known Megan since her freshman year. She began orchestra in 4th grade, I believe, but I'm not sure." – Mr. Bassill
How would you describe Megan as a person, student, and musician?
"It's hard to describe anyone in words, but Megan is a talented musician who is extremely motivated and creative. As a person Megan was always honest and direct. She has a quirky sense of humor and is fun to work with!" – Mr. Bassill
What was it like having Megan as a student?
"It was great having a student you could rely on as well as get feedback for musical ideas from." – Mr. Bassill
Can you remember a fun/funny story about Megan from orchestra?
"I always liked when we finished running through something and Megan would say 'That was really bad.' Also, when she orchestrated part of Urinetown she would throw in musical jokes (like little parts of Russian dance!)" – Mr. Bassill
How did Megan have a positive influence on the school's orchestra program?
"She made the viola section awesome!" – Mr. Bassill
What is one thing you learned from having Megan as a student?
"You never know what a student is capable of until you give them the opportunity to try!" – Mr. Bassill
What is one piece of advice that you have given (or would give) Megan concerning her musical career?
"Keep on doing what you are doing and practice!" – Mr. Bassill