North and South Korea Joint Olympic Bid
Last Wednesday, October 31, North Korea and South Korea announced their joint bid in hosting the 2032 Summer Olympic Games.  Does this mean the Koreas are getting closer to unification?
Here's the background… at the end of World War II (1945), the Empire of Japan's 35 year rule over Korean ended. However, Korea was split in two.  The Soviet Union occupied the North, and the United States occupied the South. This tore families apart and eventually led to the construction of the Demilitarized Zone (DMZ), which has been active for 65 years now. All that remains of the once unified Korea are the older generations who are holding onto the hope for the reunification with their families and homes.  
The two nations marched together under a unified flag at the opening ceremony for the Winter Olympics in February of 2018.  They also competed as one team in ice hockey. This joint bid is another symbol of the improvement of the relationship between the two countries since the end of WWII.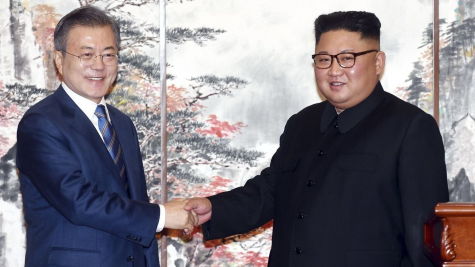 South Korean President Moon Jae-in shakes hands with North Korean leader Kim Jong Un at meeting in Pyongyang.