NFL Preview with Michael Raupp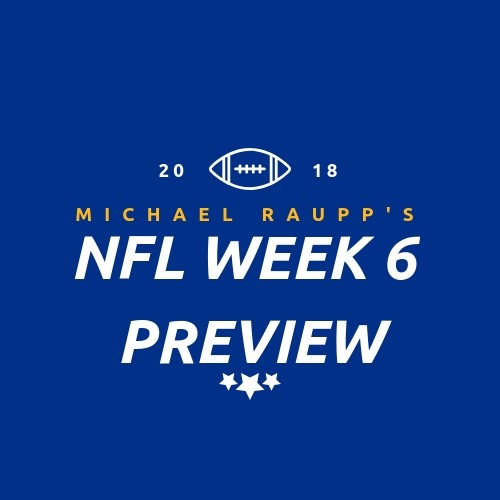 Hang on for a minute...we're trying to find some more stories you might like.
Overall, I have a 41-20-1 record since starting my pick predictions in Week 2. Last week, I finished with a record of 9-5, and I look to keep a weekly winning record this weekend. Saquon Barkley stole the show for the New York Giants last night, rushing for 130 yards and a touchdown, along with nine receptions for 99 yards. However, he was the only silver-lining as the Philadelphia Eagles whooped the Giants 34-13. See The Forest Scout's predictions to this week's lineup of games:
Pittsburgh Steelers (2-2-1) vs Cincinnati Bengals (4-1)
Noon (CBS)
Pittsburgh made amends to their home fanbase last week–at least for the time being–with the unforeseen thumping of the Atlanta Falcons. For all the talk that the Steelers' defense could not play defense, they recorded six sacks, led by TJ Watt's three sacks. On the contrary, the Bengals are riding high into this pivotal home showdown. Although Andy Dalton may not be in the same elite status as Falcons' Matt Ryan, he has kept the team even-tempered in moments of adversity. With Le'veon Bell reportedly returning for Pittsburgh after their Week 7 bye, expect Dalton to keep the Steelers from breathing down his neck. Bengals keep on rolling.
Pick: Steelers 24, Bengals 31
Tampa Bay Buccaneers (2-2) vs Atlanta Falcons (1-4)
Noon (FOX)
After being a common preseason playoff pick for the third consecutive season, the season seems to already be unraveling for the Falcons; even the owner is in disbelief. However, a distraught ownership and coaching staff should get a win and get the critics off their back– at least until Monday. Even with an injured Devonta Freeman, Matt Ryan should not have any problems shredding the league worse Buccaneers' defense. Expect Ryan to pad his stats at home.
Pick: Buccaneers 27, Falcons 42
Los Angeles Chargers (3-2) vs Cleveland Browns (2-2-1)
Noon (CBS)
The Browns through the first five weeks have proved they are no longer the team that opponents do not have to be prepared for. Their defense has built off their under the radar play from a season ago, leading the league in takeaways. After defeating the Oakland Raiders last week, Philip Rivers and his bunch better be ready for the tenacious Browns' defense. Rookie quarterback Baker Mayfield has done his job on the fly for the Browns, and he will continue to learn the tricks to the trade being an NFL quarterback this week, putting his team on league radars.
Pick: Chargers 17, Browns 26
Seattle Seahawks (2-3) vs Oakland Raiders (1-4) (at Wembley Stadium)
Noon (FOX)
Despite having a whirlwind start of the season, the Seahawks can get back to .500 with a win in London. After falling short against the dynamic offensive attack in means of the Los Angeles Rams, the Seahawks are rewarded with a gif this week– on paper that is. Jon Gruden has not gotten anything out of his pash rush since Khalil Mack was abruptly on his way to Chicago. The Seahawks' rushing attack, led by Chris Carson, has been a strength for this offense and they should pound their way to victory across the pond this weekend.
Pick: Seahawks 30, Raiders 21
Chicago Bears (3-1) vs Miami Dolphins (3-2)
Noon (FOX)
I predicted the the Bears to finish the season at 10-6, but that slight hometown prejudice seems to making its word across league circles. This cannot go without mentioning they are bringing the orange jerseys back for the first time since 2011 (Bears defeated Detroit 37-13). Playing to the Bears advantage, they are coming off a bye, and the Dolphins are folding fast. Losing last week, blowing a 17 point advantage, the Dolphins find themselves all of the sudden looking for a win. After a disrespected 3-0 start on the season, it is seemingly become more of a reality this team does not belong in the upper elechon of teams in their conference. Khalil Mack has a field day on quarterback Ryan Tannehill, as he has the second lowest passer rating when pressured so far this season.
Pick: Bears 28, Dolphins 17
Arizona Cardinals (1-4) vs Minnesota Vikings (2-2-1)
Noon (FOX)
After making his first career start on the road, Josh Rosen looks to improve on his play this week. The Cardinals' defense has been a pleasant surprise for a team still looking for a spark, but the Vikings will not let another modest–at best– opponent come into their building and embarrass themselves in front of the home supporters.
Pick: Cardinals 17, Vikings 28
Indianapolis Colts (1-4) vs New York Jets (2-3)
Noon (CBS)
The Jets embarrassed the Broncos' defensive front last weekend with the two-headed monster of Isiah Crowell and Bilal Powell. Led by Powell, rookie quarterback Sam Darnold did not have to do any heavy lifting. Meanwhile, Andrew Luck, after playing on Thursday night, has had time to repent on the start his team has had to the season. Luck most certainly does not want his team to start 1-5. He will ensure that does not become a possibility, as Luck will show Darnold where he belongs on the NFL quarterback seniority standings.
Pick: Colts 27, Jets 23
Carolina Panthers (3-1) vs Washington Redskins (2-2)
Noon (FOX)
Even after playing a backseat to Drew Brees' record setting passing performance, Washington remains in the thick of a crowded NFC East. Carolina was bailed out by their kicker, Graham Gano, as they escaped with a 63 yard game winning field goal versus the Giants. However, the Panthers have had troubles offensively and could have troubles against a Redskins' defensive unit that has been stingy–outside of last week.
Pick: Panthers 20, Redskins 26
Buffalo Bills (2-3) vs Houston Texans (2-3)
Noon (CBS)
The Texans' season might have been saved by Jason Garrett's decision to punt the ball on a 4th &1 when the Cowboys were driving the ball into Texans' territory. The solid all-around Texans' defense should not have any issues stopping the stagnant Bills' offense, but the offensive line must protect Deshaun Watson from taking any more hits. Watson again finds a way to pull out a win against a surprisingly stingy Bills' defense.
Pick: Bills 17, Texans 23
Los Angeles Rams (5-0) vs Denver Broncos (2-3)
3:05 (FOX)
After giving Pat Mahomes heartache for the better part last week on Monday night, the Broncos were embarrassed by the New York Jets. Despite having one of the league's most feared defensive fronts, with the likes of Von Miller and Bradley Chubb, Denver was obliterated Sunday, giving up north of 300 yards on the ground. The task will not get any easier, facing an opponent on a completely different level than the Jets. They better expect quarterback Case Keenum and the defense shows up or it could be a long and gloomy one at home.
Pick: Rams 35, Broncos 23
Jacksonville Jaguars (3-2) vs Dallas Cowboys (2-3)
3:25 (CBS)
The Cowboys' defense has been consistently good to start the season, but the offense has not given them any breaks. Dak Prescott has not found 'that guy' he can trust to throw to in a pivotal moment, and do not expect anything to change against the superior Jaguars' defense. Even with the poor play of quarterback Blake Bortles and playing without Leonard Fournette, the Jaguars will find a way to defeat the Cowboys– but it will be close.
Pick: Jaguars 21, Cowboys 14
Baltimore Ravens (3-2) vs Tennessee Titans (3-2)
3:25 (CBS)
The Titans again showed no promise of weekly consistency in Buffalo last week, but their defense  has been their backbone to start the season. The Ravens too have a defense close to the leagues front end, but outside of last week in Cleveland, they have shown they can stretch the field with the football on offense. However, this might be another week of old-school gridiron football, playing into the hands of those sticklers of the offensive insurgence.
Pick: Ravens 21, Titans 16
Kansas City Chiefs (5-0) vs New England Patriots (3-2)
7:20 (NBC)
'Oh Sunday night!' This very matchup could wind up becoming a future playoff preview into the new year. Pat Mahomes has proved he is no fluke in this league, and it should be interesting to see if the Chiefs' defense can manage to do anything in stopping the ageless Tom Brady. Mahomes knows he will need to be mistake free to keep up with Brady, thus, will be an arduous task. Even though there is no speculation, Brady makes it clear on national television he is still on top of the mountain.
Pick: Chiefs 30, Patriots 34
San Francisco 49ers (1-4) vs Green Bay Packers (2-2-1)
Monday, 7:15 (ESPN)
Some costly turnovers cost C.J. Beathard and his team a victory last week versus Arizona. The Packers too are looking to rebound, losing to the Lions on the road in a game that quickly got away from them in the first half. Although it is clear which team remains a contender this season, the 49ers could give the Packers fits because of their overall inconsistent play. However, Green Bay knows they need this victory at home or Mike McCarthy could find himself on the hot seat if he does not revive the Packers in the next couple of weeks. Aaron Rodgers will make sure to silent the critics Monday night.
Pick: 49ers 21, Packers 28
About the Writer
Michael Raupp, Staff Writer
Michael Raupp is looking forward joining The Forest Scout as a junior. He enjoys running on the cross country team, watching baseball, and running track...