NFL Week Five Predictions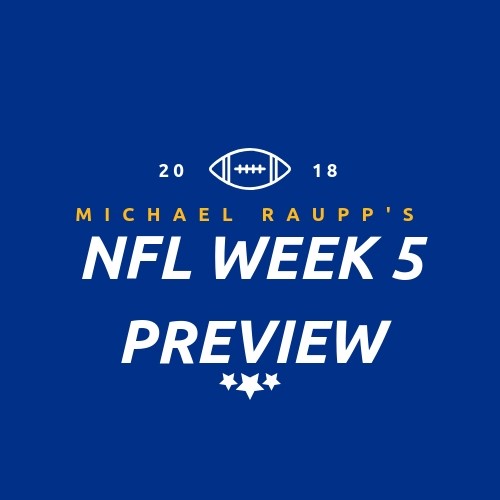 Hang on for a minute...we're trying to find some more stories you might like.
Last week, for the second time, I finished with a 10-4 record. The start of the season has been a successful one, boasting an overall record of 28-15-1. Week 5 is already underway, as the New England Patriots defeated the Indianapolis Colts 38-24. Tom Brady threw career touchdown number 500 in front of the home crowd, and the Patriots moved themselves to 3-2 on the season. See The Forest Scout's predictions to this week's slate of matchups:
Jacksonville Jaguars (3-1) vs Kansas City Chiefs (4-0)
Noon (CBS)
After defeating the Jets on Sunday, Jaguars head coach, Doug Marrone, is uncertain how long Leonard Fournette will be out with his hindering hamstring injury. They will not get any breaks to ease their offensive inconsistencies; they will travel to Kansas City and face the sizzling Pat Mahomes, on the road. This will be a possible AFC title game preview and a true test for Mahomes, who has faced little adversity, but nothing has seemed to slow him down in the early stages of his career. Chiefs win again.
Pick: Jags 24, Chiefs 34
New York Giants (1-3)  vs Carolina Panthers (2-1)
Noon (CBS)
The Panthers are fresh off a bye week, while the Giants failed to reach 20 points for the third time in four games, suffering a loss to the Saints at home. The Giants will be without Evan Engram for a second straight game, as the fresh Panthers' legs should pounce on the struggling Giants at home.
Pick: Giants 17, Panthers 27
Miami Dolphins (3-1)  vs Cincinnati Bengals (3-1)
Noon (CBS)
The Dolphins will play on the road again this week, days removed from being embarrassed by the Patriots in Foxboro. In the process, the Dolphins lost center Daniel Kilgore and cornerback Bobby McCain. Although both teams are 3-1, they look to be heading into opposite directions as the Bengals had a thrilling late win in Atlanta last week. Their continued impressive play on offense should lead them to victory again this week, even if running back Joe Mixon does not suit up.
Pick: Dolphins 27, Bengals 35
Baltimore Ravens (3-1) vs Cleveland Browns (1-2-1)
Noon (CBS)
The Ravens head to Cleveland this week, a place they have had recent success in: Baltimore has won five in a row against the Browns and four in a row at Cleveland. Coming off a grueling Sunday night victory in Pittsburgh, the Ravens will get reinforcements back on defense, adding Jimmy Smith back from suspension to an already elite defense. Baker Mayfield may keep the Browns in the game, but this Ravens team is clicking on both sides of the ball.
Pick: Ravens 27, Browns 16
Tennessee Titans (3-1) vs Buffalo Bills (1-3)
Noon (CBS)
The Titans have been a surprise thus far, defeating the Jaguars and Eagles in back-to-back games. Although all three of their victories are by a slim margin of a field goal, this is their easiest game on paper to start the season. Marcus Mariota's elbow looks healed and their strong defensive unit should get to a weak Bills' offensive line, who have allowed the most sacks in the NFL since rookie quarterback Josh Allen made his debut.
Pick: Titans 23, Bills 17
Green Bay Packers (2-1-1) vs Detroit Lions (1-3)
Noon (FOX)
Who really are the Lions this season? With inconsistencies to start off the season, it has been hard to have unwavering confidence picking them each week. After dominating the New England Patriots Week 3 on Sunday Night Football, the Lions could not stop the Cowboys on offense last week. After struggling a week ago and coming into the game banged up, Green Bay might be without receivers Randall Cobb and Geronimo Allison, but Aaron Rodgers will still find a way to outduel Lions' Matthew Stafford.
Pick: Packers 31, Lions 24
Denver Broncos (2-2) vs New York Jets (1-3)
Noon (CBS)
A win was in sight for the Broncos against the Chiefs on Monday Night Football. Although the offense stumbled down the road, the defense definitely showed up. They have a much easier matchup this week, facing a rookie quarterback in an offense that has averaged less than fourteen points the last three weeks. Led by Von Miller, the Broncos' defense comes up with some huge plays this Sunday.
Pick: Broncos 27, Jets 14
Atlanta Falcons (1-3) vs Pittsburgh Steelers (1-2-1)
Noon (FOX)
This week's matchup is desperation time for these two playoff teams just a season ago. This game will undoubtedly be an offensive shootout, as both quarterbacks have been lighting it up to start the season, however, both defenses have been giving up yards and points in astronomical numbers throughout the first four games. Don't expect either defensives to turn around this week, hence, Ben Rotheslbigher will get the best of Matt Ryan at home.
Pick: Falcons 31, Steelers 38
Oakland Raiders (1-3) vs Los Angeles Chargers (2-2)
3:05 (CBS)
Jon Gruden's Raiders finally got into the win column for the first time last week, defeating the Cleveland Browns in a high scoring overtime victory. Meanwhile, the Chargers' defense hasn't looked much better, as they are still without Joey Bosa, but veteran Philip Rivers should outduel a Raiders' offense that has looked solid this season.
Pick: Raiders 27, Chargers 31
Los Angeles Rams (4-0) vs Seattle Seahawks (2-2)
3:25 (FOX)
After defeating the Minnesota Vikings in a riveting Thursday night matchup last week, Jared Goff and his offense proved again they are one of the more potent in the league. The Seahawks will be without star safety Earl Thomas, perhaps officially moving on from the final member Legion of Boom. However, the Seahawks have played their best ball with the support of the 12th man at home, but there seems like no one is slowing down the Rams any time soon.
Pick: Rams 35, Seahawks 24
Minnesota Vikings (1-2-1) vs Philadelphia Eagles (2-2)
3:25 (FOX)
The rematch of last years NFC title game features two teams that have not played to the caliber we became accustomed to see last season. The Eagles' offense still looks off, losing in heartbreaking fashion to the Titans last week, and the Vikings look to prevent losing three straight games. With extra rest playing on Thursday night last week, the Vikings will be able to get things right this week and find themselves back into the win column.
Pick: Vikings 31, Eagles 27
Arizona Cardinals (0-4) vs San Francisco 49ers (1-3)
3:25 (FOX)
The Cardinals are still looking for their first win of the season, as quarterback Josh Rosen will be making his first career start on the road. They are coming off their best offensive game of the year, in a season that has had not too many bright spots. On the other side, the 49ers made some plays on offense, as the same this week should be enough to get them past the struggling Cardinals.
Pick: Cardinals 20, 49ers 23
Dallas Cowboys (2-2) vs Houston Texans (1-3)
7:20 (NBC)
It's a Texas battle on Sunday Night Football. The Cowboys have struggled throwing the football, but flexed their strength in running the football with Ezekiel Elliot, however, he is banged up coming into this one. Although the Texans will be without cornerback Aaron Colvin, they match well against the run, ranking fourth in rushing yards per attempt against. Protecting the quarterback has been a problem for the Texans, but Deshaun Watson will make some plays to push his guys past Dallas.
Pick: Cowboys 21, Texans 27
Washington Redskins (2-1) vs New Orleans Saints (3-1)
Monday, 7:15 (ESPN)
New Orleans have won three straight games, led by the play of Drew Brees and Alvin Kamara. Additionally, the team will gain another offensive weapon with the return of Mark Ingram from suspension. The Redskins are coming off a bye and have had solid play on both offense and defense. However, the Redskins have run the ball the most out of any team and the Saints are the best in stopping the run. The Saints will be motivated to win this primetime matchup at home, as Drew Brees can set the all-time record for passing yards in a career.
Pick: Redskins 24, Saints 34
About the Writer
Michael Raupp, Staff Writer
Michael Raupp is looking forward joining The Forest Scout as a junior. He enjoys running on the cross country team, watching baseball, and running track...