Ooms commits to Wyoming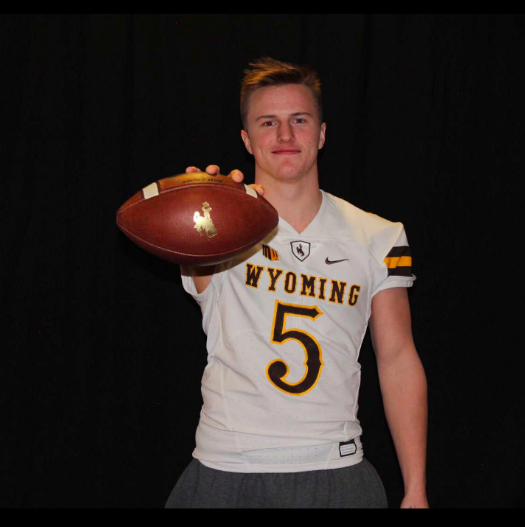 Hang on for a minute...we're trying to find some more stories you might like.
On January 13, 2018 a dream came true for one LFHS Football player–senior Bryan Ooms.  His love for the game of football has inspired him to play at the next level, earning a spot as a preferred walk-on at the University of Wyoming. Ooms, a two-sport varsity athlete at Lake Forest, has fulfilled his dreams.
Heading into his senior year at Lake Forest, Ooms had his mind set on playing football at the collegiate level. Ooms received offers from Butler University and also expressed interest in Carthage, a Division III university in Kenosha, Wisconsin, while playing his senior year. Although these schools didn't seem to fit Ooms, he left his options open. With his extended family residing in Wyoming, his mom an alumna of the University, and having previously lived there, Ooms couldn't have found a school that suits him better. In an interview with Ooms, he discussed what it was like going to their football camps as a kid, as he heads out west every summer. "I've had my eyes on Wyoming for many years. Going to their football games, summer camps, and attending a University that many of my family members graduated from."
Ooms, an outside linebacker and running back for Lake Forest, was a key member of this year's varsity team. Averaging 6.7 yards per carry, and amassing 13 touchdowns and six sacks, Ooms has displayed he is a smart, well-rounded football player. Ooms will be cutting his summer short, as summer camp starts at the end of July for the Cowboys.
Ooms, who was recruited as a linebacker, looks forward to playing with a new group of guys, and playing in the Mountain West conference. Wyoming's football program is building a new "high-altitude training center," which will include a new weight room, locker room, and team room.
A captain, a three year varsity starter, and a levelheaded player will be spending his next four years in Laramie, Wyoming, pursuing his career in a sport that means it all.